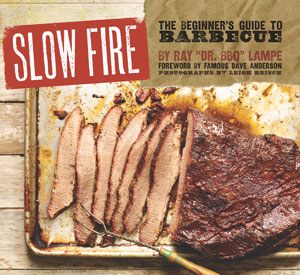 The following is an excerpt from Slow Fire: The Beginner's Guide to Barbecue by Ray "Dr. BBQ" Lampe. You might recognize the name from the Fiery Foods & BBQ SuperSite, because Ask Dr. BBQ is featured in our FAQ archives here. Over the years, BBQ-fanatic readers have asked him hundreds of BBQ and grilling questions.
Let Dr. BBQ be your wing-man (literally) as he walks you through the basics of cooking authentic barbecue on your own grill (and if you have a stovetop smoker, you can cook inside, too!) As a bonus, you'll even find some easy-to-make side dishes to go alongside, from Bacon and Blue Cheese Coleslaw to Cheesy Jalapeño Grits. You'll swear it's just about the best thing you've ever eaten.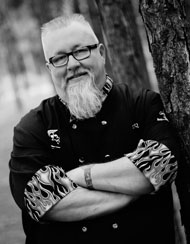 Ray Lampe has been barbecuing professionally for over 20 years. A multiple cook-off champion, he's also been a chef, cooking teacher, and author. He has written five cookbooks, including the NFL Gameday Cookbook and Ribs, Chops, Steaks, and Wings. He resides in Florida. Learn more about Ray at www.drbbq.com.
This great-looking book is 176 pages of mouth-watering BBQ wisdom. And if we're talking Father's Day gifts, you can't go wrong with a little Slow Fire.
Big Bacon and Blue Cheese–Stuffed Hamburgers
Makes 4 to 8 servings
These great big burgers have all the good stuff on the inside. They're stuffed with blue cheese and bacon and cooked in the smoker for an extra layer of flavor. Be sure to get them sealed up tight so the good stuff stays inside. They're so big you might want to serve some of them whole and some cut in half. This will keep the lighter eaters happy and make for a nice presentation.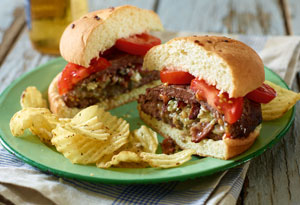 2 pounds ground chuck
1 cup crumbled blue cheese
6 slices bacon, cooked and crumbled
Barbecue Rub #67
(please see separate recipe)
4 onion rolls, split
4 thin slices tomato
Prepare your cooker to cook indirectly at 235°F using medium pecan wood for smoke flavor.
Divide the ground beef into 8 equal portions. Flatten each portion into a thin patty about 4 inches across. On top of four of the patties, put 1/4 cup of the blue cheese. Top with one quarter of the bacon and then another ground beef patty. Crimp the edges together and shape the burgers, making sure the edges are sealed.
Season the burgers liberally on both sides with the rub. Place them in the cooker for 1 hour. Flip and cook for about another 1 hour, until the beef reaches an internal temperature of 155°F.
Transfer the burgers to a plate and tent them loosely with foil. Let rest for 5 minutes. Place the burgers on the roll bottoms. Top each with a slice of tomato and the top of the bun. Serve whole or cut the sandwiches in half for smaller servings.
Barbecue Rub # 67
Makes about 1 1/2 cups
After a lot of years of making barbecue rubs, I've used up all the good names, so sometimes I just use numbers now. Numbers 67 and 68 are a little tip of the hat to the band named after my hometown, Chicago. This one is a great all-around rub for the new barbecue cook because it's good on just about everything.
1/2 cup Sugar in the Raw
1/2 cup kosher salt
3 tablespoons chili powder
3 tablespoons paprika
1 teaspoon garlic powder
1 teaspoon onion powder
1/2 teaspoon black pepper
1/2 teaspoon lemon pepper
1/2 teaspoon ground coffee
1/4 teaspoon cayenne pepper
Combine all the ingredients in a medium bowl and mix well. The rub may be stored in an airtight container in a cool place for up to 6 months.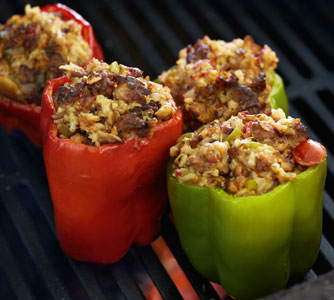 Jambalaya-Stuffed Bell Peppers
Makes 8 servings
Instead of plain old rice stuffing, we're kicking it up a notch here with some great Louisiana flavors, as these bell peppers get a new twist with jambalaya for a stuffing. The spicy andouille sausage really makes a difference, so try to find it if you can. Add an extra jalapeño if you dare and mix and match the colors of the bell peppers for a great presentation.
3 tablespoons vegetable oil
1 red onion, chopped
1 green bell pepper, chopped
1 jalapeño, minced (remove the seeds if you don't like it hot)
3 garlic cloves, minced
2 cups (about 1 pound) chopped andouille sausage or smoked sausage
One 14 1/2-ounce can diced tomatoes
1 tablespoon paprika
2 teaspoons dried thyme
2 teaspoons kosher salt
1/2 teaspoon black pepper
1/4 teaspoon cayenne
3 cups chicken broth, plus more if needed
2 cups chopped, cooked chicken (smoked or roasted)
1 cup uncooked white rice
4 large red bell peppers
4 large green bell peppers
To make the jambalaya: In a Dutch oven over medium heat, warm the vegetable oil. Add the onion and chopped bell pepper and cook for 4 minutes, stirring often. Add the jalapeño and garlic and cook for 4 minutes, stirring often. Add the sausage and cook for 4 minutes, stirring often. Add the tomatoes, paprika, thyme, salt, pepper, and cayenne. Mix well and cook for 4 minutes, stirring often. Add the broth and chicken and bring to a simmer, stirring occasionally. Add the rice and mix well. Return to a simmer. Cover and cook, stirring occasionally, for about 20 minutes, or until the rice is soft and most of the liquid is absorbed. If the liquid evaporates too quickly, add some additional chicken broth. Remove from the heat and let rest for 10 minutes.
Prepare your cooker to cook indirectly at 235°F using medium pecan wood for smoke flavor.
Cut the tops off the red and green bell peppers and remove the veins and seeds. Cut a little off the bottom if needed to get the peppers to stand up, but be careful not to cut all the way through. Stuff the peppers with the jambalaya and stand them up on a grill topper. Put the peppers in the cooker for 11/2 hours, or until the peppers are tender.
Remove from the cooker and transfer the peppers to a platter. Tent loosely with foil and let rest for 5 minutes before serving.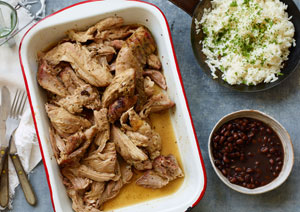 Cuban-Style Leg of Pork
Makes 12 servings
This is a very popular dish in Florida, where Cuban and Spanish influence on the food abounds. The sour orange juice is really unique and the key to this dish. If it's not available to you locally, look around on the Internet. It may seem like you use a lot of salt here, but that is also a key to the authentic flavor. It's a simple prep—just make sure you get it marinating a day ahead of cooking. This dish should always be served with black beans and rice.
1 fresh 8-pound pork picnic leg
15 garlic cloves, coarsely chopped
1/4 cup sour orange juice (or 3 tablespoons orange juice and 1 tablespoon lime juice)
1/4 cup kosher salt
2 tablespoons olive oil
1 tablespoon ground cumin
1 tablespoon dried oregano
1 teaspoon black pepper
1 onion, thinly sliced
Mojo
2 tablespoons olive oil
6 garlic cloves
1 teaspoon salt
1 teaspoon black pepper
1 teaspoon ground cumin
1 teaspoon dried oregano
1 cup sour orange juice (or 3/4 cup orange juice and 1/4 cup lime juice)
With a sharp, thin knife, remove the skin from the pork leg, leaving the fat intact. Stab the pork leg deeply in an X fashion every couple inches on all sides.
Put the garlic in the bowl of a food processor fitted with a metal blade. In a medium bowl, mix together the orange juice, salt, olive oil, cumin, oregano, and pepper. Pour the mixture over the garlic. Process on high for about 20 seconds, until the mixture is well blended. Transfer the paste mixture to a small bowl. Rub the paste mixture all over the leg, shoving it deeply into all of the holes. Put the leg in a large plastic bag and toss in the onion, spreading it evenly around the leg. Seal the bag and refrigerate for at least 12 hours and preferably 24.
Prepare your cooker to cook indirect at 235°F using mild pecan wood for smoke flavor. Take the pork leg out of the bag and place it, fat-side up, in an aluminum foil pan. Place the pan in the cooker for 2 hours. Flip the leg over and cook for 2 hours more.
Meanwhile, make the mojo: Heat the olive oil in a small saucepan over medium heat. Add the garlic and cook, stirring often, for 2 minutes. Add the salt, pepper, cumin, and oregano and cook for 3 minutes, stirring often. Add the orange juice and stir well. Remove from the heat and set aside.
Flip the leg again and baste with half of the mojo. Cook for 30 minutes. Flip the leg and baste with the remaining mojo. Cook for 30 minutes. Flip the leg again and cover the pan with aluminum foil. Continue cooking until the internal temperature of the meat reaches 195°F, about 3 to 4 hours more.
Remove the pan and transfer the leg to a platter. Tent it loosely with foil and let it rest for 15 minutes. Transfer the liquid from the pan to a bowl or large pitcher. Let it rest, then skim off as much grease as possible. Pull the roast off of the bones in chunks and transfer them to a platter, discarding all the bones and fat. Serve with the mojo on the side as a sauce.
The following two tabs change content below.
Managing Editor | Mark is a freelance journalist based out of Los Angeles. He's our Do-It-Yourself specialist, and happily agrees to try pretty much every twisted project we come up with.
Latest posts by Mark Masker (see all)