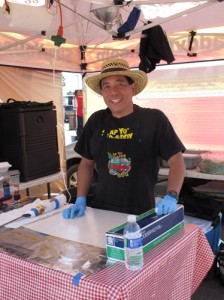 If you've seen BBQ Pitmasters on TLC, you've seen Slap Yo' Daddy's Harry Soo in action. He's the guy hunkered down over an 18-inch Weber grill working like crazy. At the end of March, I hit the road to the ACM Barbecue Throwdown at  Mandalay Bay Resort in Las Vegas, where Harry was hard at work winning the fifth of five grand champion awards in a row.
The man is a machine, albeit one who still uses the same simple setup you see on television. Where the other 109 teams were all more elaborate than SYO (Slap Yo' Daddy), he was the one walking away with the title. The guy's got heart. He's also really busy, which is why I was stoked when he agreed to answer my questions for this interview.
Burn! Blog: At what point did the light come on in your head that made you decide to start competing?
HS: "I was procrastinating until Teri 'forced' me to compete to clear my bucket list item. See the full story here."
Burn! Blog: What's the greatest challenge in making the leap from backyard barbecuer to competitor?
HS: "Figuring out the rules and KCBS presentation. Trying to guess what flavors worked in competition. Getting equipment ready and practicing in the backyard to see if I could cook 4 meats like that. I basically jumped into a contest with no practice with 2 new WSMs (Weber Smokey Mountain cookers) from Amazon with free shipping."
Burn! Blog: If you were starting out now, what would you do differently?
HS: "I would have started it 10 years earlier. I've not had so much fun in my life and the soul-enriching experience of spreading peace, love, and barbecue happiness has been very rewarding."
Burn! Blog: What's the most common mistake that new teams make in your opinion?
HS: "Over-smoking their meat. Trying new recipes at contests without testing them first. Drinking too much on Friday night."
Burn! Blog: With you going to England to teach barbecue across the Atlantic, what do you plan for your barbecue career in addition to competition?
HS: "Have fun, teach, and continue to spread BBQ happiness. It seems the London class is sold out even before online enrollment is offered so I may be headed across the pond regularly. I used to be a 747 pilot in the `80's and went to London frequently. I'm looking forward to some fish and chips and good Indian food. I'm also working the details with BBQ Island, the largest barbecue store in the West, located in Tempe, AZ, to build an exciting BBQ and Grilling Boot Camp program in collaboration with an international 5-star hotel and resort chain to establish a foothold in the US, and then going international. Our first 4-day immersive boot camp course is scheduled for late October 2012 in Scottsdale, Arizona, USA.
I'm also revamping my website to be a destination site for BBQ and grilling recipes. You can take a peek here.
A potential restaurant is in the works too, as my catering partner wants to re-brand his restaurant with SYD. I've also got SYD merchandise in the works with a business partner. SYD rub is selling well and soon will be joined by SYD sauces also."
Burn! Blog: You've talked about difficulties with pork this season and having to adjust accordingly. How do you go about making that sort of analysis and adjustment?
HS: "Going through highs and lows is part of the competition cycle. No meat category stays on top forever. When one meat falters, hopefully, the others come to the rescue. The past three months my brisket and chicken are smoking hot and have allowed me to win 5 Grand Championships in the last 7 contests. I'll need to work on my pork to get it back to the top rankings. It can be done, as our pork was our strongest performer finishing 3rd overall in the KCBS national rankings in 2011. Cooking is like tuning a 12 cylinder engine. All the 12 cylinders of appearance, taste, and tenderness, times 4, have to be perfect in order to win. I'm going to revisit the appearance, taste, and tenderness of my pork to figure out what's not working out and make tactical and strategic adjustments."
Burn! Blog: You've said your objective is to spread happiness through barbecue. Why barbecue for that instead of something else? What about barbecue makes you happy?
HS: "I roamed this planet for 50 years wondering what was my purpose in life. Is it just to live a comfortable life or is there something more? Mrs. Walton said 'It's not what you gather that's important but what you give away.' I've been given this talent at a late age in life and I know in my heart that I have this talent, because it is really a means to my real ends, which is to spread happiness by sharing my barbecue skill and knowledge.
It doesn't matter how many zeros you have in your bank account, how many cars or houses you own, as all these are temporary. We all are headed to the same place and when you get there, you can't take any of these material things with you. When people tell me they don't feel loved, I ask them when was the last time they gave love. All that goes around comes around and you won't receive love if you don't give it first. BBQ is a pure form of giving sincere love. If you cook it from your heart, you are spreading love.
At the moment of reckoning, we realize that there are only 3 things that are important because they are eternal: 1) love – the experience to receive love and give love, 2) memories of all the good times, 3) relationships we cultivated with friends, family, and pets. When I cook BBQ, I feel happy and I connect heart to heart with my students or CBJs (Certified Barbecue Judges) as I transfer my positive energy into the food I cook."
Burn! Blog: Are the regulations governing what you can do in a competition becoming more restrictive with regard to creativity? If so, how?
HS: "The short answer is no, because all of the teams have to follow the same rules. Barbecue teams have to show tremendous creativity within a 9×9-inch inch Styrofoam box. That's why it's so much fun because it's extremely challenging. Everyone is subject to the same rules coupled with double blind judging so you really have to be good to win."
Burn! Blog: Do you have a schedule of upcoming classes that we can share with our readers?
HS: "Sure, here it is. More dates will be posted once my calendar gels."
The following two tabs change content below.
Managing Editor | Mark is a freelance journalist based out of Los Angeles. He's our Do-It-Yourself specialist, and happily agrees to try pretty much every twisted project we come up with.
Latest posts by Mark Masker (see all)