Hammacher Schlemmer, the famous purveyors of cutting-edge gadgetry, have done it again. Most of us know their nifty and diverting catalog (the first copy was published in 1881) from the seat pockets of airliners. Over the years, HS would offer the first electric pencil sharpener, food processor, electric can opener and automatic coffee maker. Other notable introductions include the first microwave oven (1968), telephone answering machine (1968) and cordless telephone (1975). Now they've identified the next wave of must-have, innovative culinary equipment (insert trumpet fanfare here):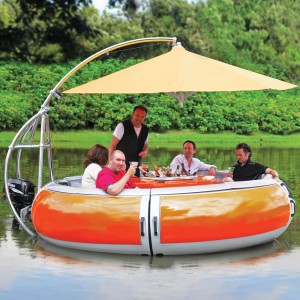 The Barbecue Dining Boat.
This is the boat with a built-in barbecue grill, umbrella, and trolling motor that provides waterborne cookouts for up to 10 adults. The boat's 24″-diam. steel charcoal grill is surrounded by an ABS table with 10 place settings that each have a recessed plate holder, three beverage holders, and silverware tray. Six compartments beneath the ABS seats store food and supplies for all-day cookouts. The 11′-diam. nylon umbrella can be retracted when using the grill. Its 30-watt electric trolling motor enables operators to maneuver up to 2 1/2 mph through calm water and alongside docks for loading/unloading. The motor's four rechargeable batteries provide up to eight hours of continuous use from a 10-hour charge. Polyethylene hull. Special conditions and guarantee limitations apply. Please call 1-800-227-3528 for details. 11′ 9″ Diam. x 9′ 2″ H. (1,102 lbs.). $50,000
The following two tabs change content below.
Publisher | Christened the "Pope of Peppers" by The New York Times, Dave DeWitt is a food historian and one of the foremost authorities in the world on chile peppers, spices, and spicy foods.
Latest posts by Dave DeWitt (see all)