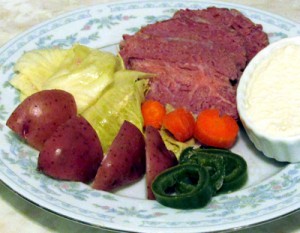 Normally I spend my Saint Patrick's Day hunting leprechauns so I can waterboard the location of their gold out of them, but this year I changed it up by making corned beef with a twist: I brought the fire. Much like celebrities and rehab, mustard and corned beef have a long tradition together. Seeing as how people love themselves some hot, spicy mustard, why not try making hot, spicy corned beef? To make it even more interesting, I decided to use a slow cooker.
Jalapeño Corned Beef
1 3-pound corned beef, with spice packet
½ cup water
1 pound red skinned potatoes, cut into quarters
1 cup sliced carrots
1 sliced fresh jalapeño, including seeds (stem removed)
I like to think of anything I cook in a slow cooker as Cooking for Dummies, and this is no exception. You put the water and veggies in the pot, mix in the contents of the spice packet, then set the corned beef atop it all, and set the cooker on Low. After 8 to 10 hours of diligent neglect, you get a hot twist on this St Patrick's Day Classic.
Serves: 2-4
Heat Rating: Medium
If this recipe is just not hot enough, serve the corned beef with a side of spicy mustard or sauce, like Schultz's Gourmet Hot Sauce www.schultzsgourmet.com. It's a health-conscious sauce that I've found makes a great swap for mustard in other eats like pastrami sandwiches. Or, try the recipe below:
Horseradish Mustard with Sour Cream
Horseradish is a more traditional route to take toward spicing up Northern European beef dishes. When mixed with mustard, it's great as a side dip for corned beef. Here's the version I concocted for kicks:
½ cup sour cream
1 tablespoon prepared horseradish
1 tablespoon prepared mustard
½ teaspoon light brown sugar
Just mix all of the above evenly in a small bowl and it's ready to go. The milk fat in the sour cream mellows out the heat from the horseradish, giving each bite a heat that follows the other flavors and fades very quickly. I added the brown sugar because the sauced tasted one-dimensional to me without it.
Serves: 4
Heat Rating: Mild to Medium
The following two tabs change content below.
Publisher | Christened the "Pope of Peppers" by The New York Times, Dave DeWitt is a food historian and one of the foremost authorities in the world on chile peppers, spices, and spicy foods.
Latest posts by Dave DeWitt (see all)