Photos by Wes Naman
Here's a blow-by-blow description of how to make classic New Mexico-style chiles rellenos. Creating truly great chiles rellenos requires a bit of effort, but once you've had that first cheesy, glorious bite, you'll be glad you took the time. Be careful when handling just-roasted chiles; you can easily burn your fingers. Watch out for popping hot oil when you fry the rellenos, and don't forget to pull the toothpicks out of the chiles before serving.
Here's the ingredients list:
4 green New Mexican chiles, roasted, peeled, stems left on
Cheddar cheese or Monterey Jack, cut into 4 sticks
Flour for dredging
3 eggs, separated
1 tablespoon water
3 tablespoons flour
¼ teaspoon salt
Vegetable oil for frying
Green chile sauce for topping (you can buy this in a jar from a company like El Pinto, or make it yourself with this recipe)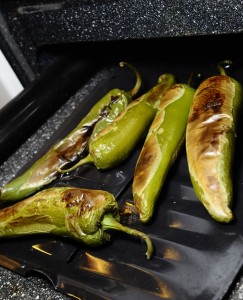 ROAST & PEEL THE CHILES
1. If you're lucky enough to live in New Mexico, you can buy roasted chiles from roadside vendors in the fall. But it's easy to "roast" the chiles you need in your broiler. Simply pierce a small hole in each pod (this allows steam to vent during cooking) and place them under the flame until the skins blister. Be sure to turn the chiles frequently so they heat evenly.
When the skin has blistered on all sides, remove the pods and place them into a plastic garbage bag. Twist the bag shut and allow the chiles to steam for about 10 minutes. This will make the skin easier to remove and gives the pods time to cool so you don't burn your fingers peeling them.
Peel the skin from the chiles, being careful not to rip the fleshy parts underneath.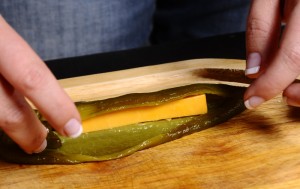 STUFF WITH CHEESE
2. Carefully slice each pepper along one side. Rinse the seeds out of the pods. It's ok if a few seeds remain.
Insert a piece of cheese into each chile and close up the slit, securing it with a toothpick (remember to remove the toothpick after frying!).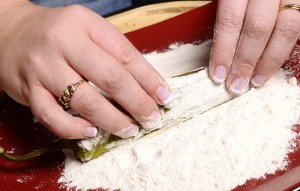 DREDGE IN FLOUR
3. Dredge each chile in flour, covering all sides.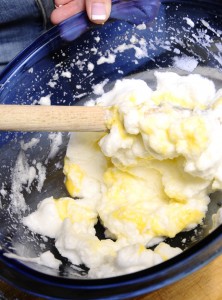 PREPARE THE BATTER
4. Beat the egg whites until stiff peaks form. Fold the yolk mixture gently into the whites, stirring just until mixed.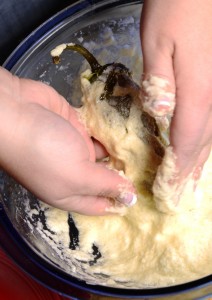 COAT THE CHILES
5. Dip each flour-coated chile into the egg mixture, being sure to coat all sides thoroughly.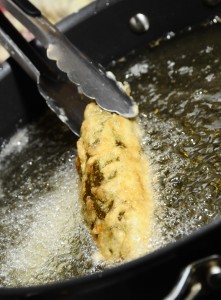 FRY THE RELLENOS
6. Fry each pepper in hot oil until golden, turning once. Remove the toothpicks after frying.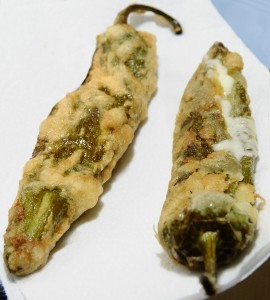 This is the classic New Mexican approach, but you're really only limited by your imagination when it comes to creative relleno-making. For more versions of chiles rellenos, check out  Chiles Rellenos: Variations on a Classic Dish on the Fiery Foods & BBQ SuperSite.
The following two tabs change content below.
Lois Manno
Lois is the Editorial Director of the Burn! Blog and the Fiery Foods & BBQ SuperSite.
Latest posts by Lois Manno (see all)