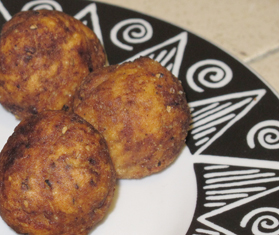 Before you hush puppy purists grab the torches and pitchforks and head to Los Angeles for a few days of burning yours truly at the stake, hear me out. I was desperate for an appetizer at this Saturday's grilling and had no money but plenty of corn masa, garlic, habanero pepper, and vegetable oil. That's where this tasty violation of southern tradition originated.
I've got to be honest—the results surprised me a little. Sure, I knew the finished product would taste like corn chips. That's what I wanted. What surprised me was just how well the garlic expressed itself with the rest of the flavors. It's definitely present but frying turned it into paste; there wasn't that moment of biting into a little chunk of garlic and getting overload.
I'm adding this recipe to my stable and I'll definitely cross-breed it with other elements. I'm thinking jalapeño poppers, chorizo, or cheese would be great here. If you beat me to the punch (or you've already done something like this), please tell us about it.
Spicy Southwestern Hush Puppies
1 cup corn masa
2/3 cup water
1 tsp cumin
1 tsp paprika
1 tsp fresh crushed black pepper
1 tsp sea salt
1 finely chopped habanero pepper
2 cloves minced garlic
Mix the dry masa with the spices, then mix in the water and add the habanero and garlic. Break the mixed dough into 1-inch lumps and shape them into balls. Pour enough oil into a pot or frying pan to cover the puppies. (Just so we're clear, the hush puppies, not actual puppies.) Heat the oil on high for several minutes (6-10 should do), then place the hushpuppies into the oil with a pair of metal tongs.
Cooking should take several minutes. When the hush puppies reach a golden or darkish brown, take them out with the tongs and set them on a paper towel on plate to drain. Serve them on a plate with your favorite sauce for dipping (I used Smoke'n Jacks sauce).
Serves: Makes 12 hush puppies
Heat Scale: Medium to hot
The following two tabs change content below.
Managing Editor | Mark is a freelance journalist based out of Los Angeles. He's our Do-It-Yourself specialist, and happily agrees to try pretty much every twisted project we come up with.
Latest posts by Mark Masker (see all)