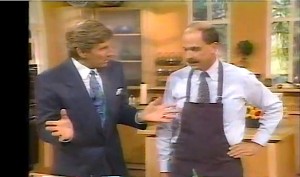 I was saddened to read about the recent death of TV host Gary Collins.  I really liked Gary and appeared on his national show in 1991.  I had to follow the Parents of Murdered Children, and during the commercial break, everyone on the set was crying–except for Gary and I.  Gary apologized profusely to me, and I said, "After you introduce me, I'll say, 'Enough about murder!  Let's cook up some spicy shrimp!'"
Gary said, "Better not Dave, and your 5-minute segment has been cut to 3.  Can you do it?"
"Of course," I replied, and you can click here to see what happened.
I rode back to the hotel in a van with the parents, and the spokesman for the group apologized to me too for ruining my segment.
"It's not about me," I told him.  "Sorry for your loss."
The following two tabs change content below.
Publisher | Christened the "Pope of Peppers" by The New York Times, Dave DeWitt is a food historian and one of the foremost authorities in the world on chile peppers, spices, and spicy foods.
Latest posts by Dave DeWitt (see all)