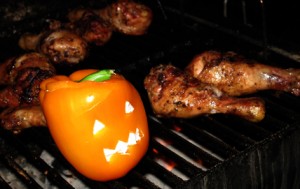 Happy Halloween, folks. Before I put on my pimp costume and head over to my friend's Halloween party, I thought you might want check out one of the things I like to grill this holiday: orange bell pepper Jack-O-Lanterns. You can fill 'em with all kinds of stuff but I use spiced up cream cheese (a) because it looks good in the pepper's face and (b) practically melts into a hot dip you can use for chips and the sliced pepper after its grilled. It's a very simple appetizer that my grilling crew loves.
Bell Pepper Jack-O-Lanterns
4 large orange bell peppers
x3 8-ounce packages of cream cheese
3 teaspoons salt
3 teaspoons black pepper
3 teaspoons granulated onion
3 teaspoons minced garlic
Start heating your grill or oven to 300 degrees F. Meanwhile, set the cream cheese out and let it warm up to room temperature. Gut the peppers while you wait, making sure to retain the tops. You not only want them as lids, they also hold the goo in place while the peppers cook. Cut whatever design you want into the peppers but don't make the holes too big or the stuffing will leak out. That is, unless you want it to look like your project is crying cream cheese. Totally your call.
When the cheese is close to room temperature, mix in the spices with either an egg beater or a fork. Distribute the finished cheese evenly into each pepper and use a spoon or fork to press some of the cheese into Jack's face.
Once the peppers are ready to go, gently press the lids into the cheese and grill them indirectly. I place them all right next to each other to keep them from falling over. Check them every ten minutes, turning them sideways so that all sides get even cooking. It should take about twenty minutes total to cook them.
Heat Scale: None
Serves: 5-6 as an appetizer
The following two tabs change content below.
Managing Editor | Mark is a freelance journalist based out of Los Angeles. He's our Do-It-Yourself specialist, and happily agrees to try pretty much every twisted project we come up with.
Latest posts by Mark Masker (see all)