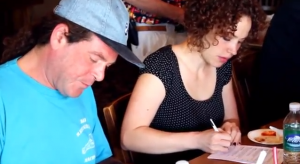 Just to show everyone exactly how the Scovie Awards were judged, we shot video of the 2013 judging, which was held October 1, 2012 at the County Line Barbecue Restaurant in Albuquerque.  About 80 judges tasted and rated about 770 products in two sessions.  A total of 805 products were entered, some in the Marketing and Advertising Division, which was judged in another session.  The videographer was Jay Emms and I wrote the script and voiced the video.  The video of the judging is here.  For results and more information on the Scovie Awards, just go to ScovieAwards.com.
The following two tabs change content below.
Publisher | Christened the "Pope of Peppers" by The New York Times, Dave DeWitt is a food historian and one of the foremost authorities in the world on chile peppers, spices, and spicy foods.
Latest posts by Dave DeWitt (see all)