Words and photos by Harald Zoschke, http://www.pepperworld.com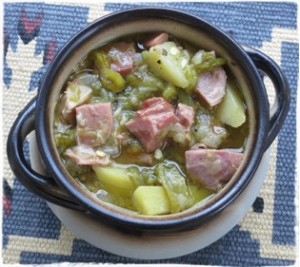 On a recent trip through the U.S. Southwest, we stayed in Las Cruces, New Mexico for a long weekend and to visit the annual Hatch Chile Festival. As per Dave's recommendation, we ate at De La Vega's Pecan Grill and Brewery. I'm glad we did, as their food is wonderful, and so is their beer selection, brewed on location.
One dish we particularly liked was their Green Chile Stew – which, according to the menu, was made with green chile, spices, and smoked pork, topped with white cheddar cheese. Being almost addicted to green chile, my wife Renate and I grow NuMex 6-4, Sandia and other New Mexican cultivars each year and roast them on our gas grill. Then we peel and freeze them to make it through our cold winter.
So back home we were ready to cook our own version of the Pecan Grill's delish stew. Fortunately, Dave had this Green Chile Stew recipe online, which we simply modified to our needs. This worked great, and it was as tasty as what we ate at the Pecan Grill. We wolfed down two portions and froze the other two to enjoy later this winter. Note that due to the use of smoked pork, this recipe does not require searing the meat first, and it doesn't use additional salt.
Green Chile Stew with Smoked Pork
Author:
Prep time:
Cook time:
Total time:
Ingredients
[img src="https://www.burn-blog.com/wp-content/uploads/2012/11/GC-stew-ingredients-300×223.jpg" alt="" title="GC stew ingredients" width="300″ height="223″ class="alignright size-medium wp-image-4609″]1 boneless smoked ham hock (about 1 to 1.5 pound), cut into 1-inch cubes
Vegetable oil
1 large onion, diced
2 garlic cloves, minced
1/2 quart chicken broth or instant vegetable broth
6 to 8 green New Mexican chiles (about 8 oz.), roasted, peeled and cut into thin strips
1 large potato or a couple of smaller ones, peeled and diced
1 teaspoon dried oregano, Mexican preferred
1/2 teaspoon ground cumin
1 cup grated white cheddar or mozzarella (about 2.5 oz.)
Instructions
In a medium stockpot, heat the oil, add the onions, and sauté until the onions turn a golden brown, about 5 to 10 minutes. Add the garlic and cook for an additional minute.
Add the chiles, potatoes and pork cubes to the stockpot.
Add the broth, season with oregano and cumin. Stir and bring mixture to a slow boil, reduce the heat, and simmer with lid closed for 30-45 minutes or until the potatoes are soft.
Serve hot and add 1/4 of the grated cheese to each bowl before serving.
The following two tabs change content below.
European Chilehead Editor at Large | Harald's Chili Pepper Buch 2.0 is the bestselling chile book in German-speaking Europe. He covers European chilehead culture and his own spicy kitchen encounters for Burn Blog.
Latest posts by Harald Zoschke (see all)