By Steve Johnson
Beef jerky manufacturers continue to test and experiment with bold new flavors, particularly by extending into cultures outside of the American Old West, and Korean cuisine seems to be a budding new trend.
I recently got to review two brands of gourmet beef jerky who tried their hand at recreating the spices and marinades of Korean food culture. My mouth watered just from the aroma of chiles, garlic, and vinegar wafting out of the packages, taking me back to memories of dining out at Korean barbecue joints and downing loads of spicy pork and kim chee.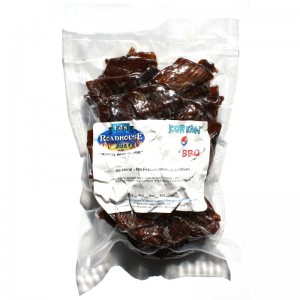 Ed's Roadhouse Jerky, based out of Wellington, FL, may not be a name you recognize from the meat snack aisles of convenience stores and gas stations, but they've built themselves into what is perhaps the most sought after brand by die-hard jerky snackers looking for the best in soft chewing, full meat flavored, angus beef goodness.
Their Korean BBQ beef jerky was finally introduced to the public late last October, and it doesn't disappoint for spicy food fanatics. I found a flavor almost reminiscent of Sriracha sauce, having that intense blend of chile peppers and garlic, but it wasn't quite Sriracha.
My taste buds kept telling me Kim Chee, and the more I thought about it, sure enough it tasted like that dark red, fermented chile sauce that tends to stink up kitchens and living rooms wherever it may be found.
Except this jerky doesn't stink up the house. You get that mouth-watering aroma of marinated beef, but mixed into it the pungent, floral aroma of chiles, garlic, and seasonings. And it's not too hot, I was able to enjoy a medium level of burn, just enough to agonize a few endorphins from my noggin.
The surprise that comes in this Korean barbecue variety from Ed's Roadhouse is a fruity flavor mixed into all that chile and garlic madness, creating a tangy, eye opening chewing experience that draws you into eating more and more. There's also a nice balance of black pepper and a touch of soy sauce flavor that comes in at the latter half of chewing.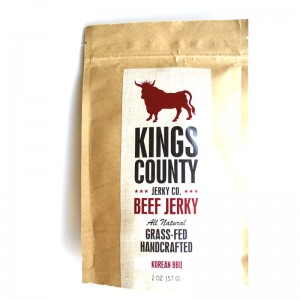 Kings County Jerky Company, based out of New York City, managed to pick up a lot of press around the greater metropolitan area thanks to placing 2nd out of 150 contestants in the Rooster Design, "Next Big Small Brand" competition. Since then, the company has grown quickly on the strength of its artisanal approach towards dehydrating strips of marinated beef.
Their Korean barbecue flavor has been around for a few years now, anchoring a trio of award winning flavors offered by the company. I found it to have a flavor more comparable to a dish of spicy beef that I often find at Korean barbecue houses. The meat offers up a red peppery splash of spicy heat, just moderately hot, mixed into a soy sauce marinade.
But what makes Kings County Jerky Company so good is a savory, marbleized, natural meat flavor. The soft, tender chewing, combined with the spicy red chile flavor, and soy sauce marinade, creates a very snackable, satiating, meat snacking enjoyment.
I found myself gravitating towards the complex Korean barbecue flavors of Ed's Roadhouse Jerky, but still appreciated the wonderful flavor of marbleized beef that Kings County Jerky Company offers. We'd love to read your thoughts on Korean barbecue style beef jerky.
Editor's Note: Steve Johnson is in the enviable position of reviewing beef jerky on a regular basis at his site, Best Beef Jerky. Be sure to check back with us for other spicy jerky reviews from time to time.
The following two tabs change content below.
Publisher | Christened the "Pope of Peppers" by The New York Times, Dave DeWitt is a food historian and one of the foremost authorities in the world on chile peppers, spices, and spicy foods.
Latest posts by Dave DeWitt (see all)