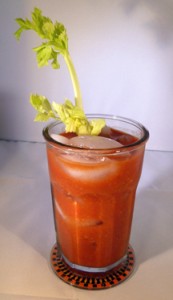 If you're a home gardener, you've probably experienced the dreaded Zucchini Syndrome. Over-producing squash plants make the zukes faster than your family can eat them. You try to give them away, but no one wants them because they're now larger than your cat. Well, the same thing can happen to chile plants, which is why I wrote Too Many Chiles with Nancy and Jeff Gerlach. But at least you can dry the chile pods to preserve them—something you can't do easily with zucchinis and large tomatoes.
Because I'm writing a book on microfarming, this year I decided on two relatively valuable crops to experiment with: superhot chiles and heirloom tomatoes. The superhots, Scorpions and Barrackapores, are no problem because demand exceeds supply and retailers can sell the pods fresh for a dollar each! But selling fresh tomatoes in the summer is a challenge because everyone has them. I discussed this situation with some chef friends, and their suggestion was to puree the tomatoes and freeze the puree in pint or quart amounts so that chefs would have access to organic, heirloom tomatoes during the winter for sauces and as an ingredient in various other dishes. They also told me they would buy fresh culinary herbs and greens if I could produce them in my small greenhouse during the winter, so I'll give that a shot too. Understand that I'm not changing my careers or retiring—I'm just experimenting for the new book.
I harvested 41.6 pounds of tomatoes in July and fully expect at least a couple of hundred pounds for the entire season. Heck, one of the Brandwines I picked today weighed nearly a pound! Less the ones that we're eating or giving away, the harvest will produce a lot of puree. Will it be worth more than fresh tomatoes sold now? I'm betting it will.
I did some research on using fresh, uncooked tomato puree, which of course is thinner than commercial or even cooked purees. Besides making pasta sauces—a no-brainer—there weren't a lot of good ideas out there, so I decided to try some experiments, starting with something alcoholic. I critique my recipe below.
Dave's Fresh Bloody Mary Mix
Author:
Prep time:
Cook time:
Total time:
I only drink Bloody Mary's occasionally, but I like them because of their combination of ingredients and the spiciness. And I don't really like the mixes out there so I decided to give fresh puree a try in a recipe and see what happens. I had purchased roasted fresh red chile from Sichler's Chile Stand on San Mateo—Eleanor Sichler saves it for me—so I used that instead of hot sauce
Ingredients
4 cups fresh tomato puree
1/4 cup pureed fresh red chile
1 teaspoon celery salt
3/4 teaspoon freshly ground black pepper
Juice from one lemon
1 tablespoon Worcestershire sauce
2 teaspoons Atomic horseradish
Instructions
In a saucepan, combine the puree, red chile, celery powder (celery seed in a spice mill), black pepper. Simmer this combination, uncovered, for 45 minutes on the lowest possible temperature you can get from your burner, stirring occasionally.
Remove the mix from the heat and allow it to come to room temperature. Add the lemon juice, Worcestershire, sauce and horseradish.
Puree it in batches on high until it's as smooth as possible. Make the Bloody Mary and enjoy.
The Homemade Bloody Mary
Author:
Prep time:
Total time:
Ingredients
1 1/4 cups Fresh Bloody Mary Mix
1/4 cup vodka of choice
Celery stalk for garnish
Instructions
Fill a tall glass with ice, add the mix, add the vodka, and stir well.
Garnish with the celery stalk.
Critique: I erred originally by adding the lemon juice and Worcestershire sauce before simmering. It needs to be added to the mix after the cooking, so I adjusted the recipe to reflect this. The finished mix did not have the tart "pop" that I expected, and the Worcestershire sauce was hard to detect after cooking. That said, the mix was far better than any bottled mix I've ever tried, and the fresh tomatoes had none of that "processed" or canned flavor. The cooking thickened and concentrated the tomatoes, so the mix was diluted perfectly by the ice and vodka. All in all, a fine use for too many tomatoes.
The following two tabs change content below.
Publisher | Christened the "Pope of Peppers" by The New York Times, Dave DeWitt is a food historian and one of the foremost authorities in the world on chile peppers, spices, and spicy foods.
Latest posts by Dave DeWitt (see all)