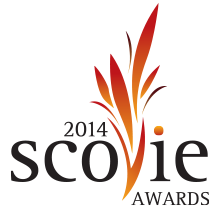 We are now only 12 days away from the Scovie deadline of September 6.
People always have questions about the Scovie Awards, so we've put together a list of Frequently Asked Questions, What makes us different from other contests? And why do we need four samples of each product entered? Find out the answers to these questions and more right here.
You, too can be a Scovie winner, but you have to enter first! Today would be a great day to do that before the deadline closes in.
And if you'd like to learn how we judge the contest, now you can watch our high-budget, award-winning short film in glorious Technicolor, by clicking here.
Scovie Judging
The judging will be held September 23 at the County Line BBQ Restaurant in Albuquerque.
To enter the 2014 Scovie Awards, go here. If you need more information, or if you have any questions, email Emily DeWitt-Cisneros here, or call her at 505-873-8680.
Hottest regards,
Dave DeWitt, Scovies Founder
The following two tabs change content below.
Publisher | Christened the "Pope of Peppers" by The New York Times, Dave DeWitt is a food historian and one of the foremost authorities in the world on chile peppers, spices, and spicy foods.
Latest posts by Dave DeWitt (see all)