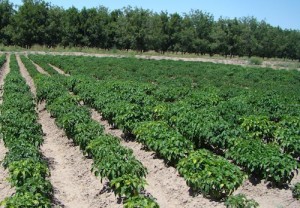 We have begun the harvest in Las Cruces of Trinidad Scoprions, Morugas, 7-Pots, and Barrackapores. Monday, we harvested 40 pounds, so the crop looks great. They are available for sale, but we are not catering to hobbyists. The minimum order is five (5) pounds in the lower 48 states only, and no international orders. The prices are:
5-39 pounds, $16.00 a pound plus shipping
40-up pounds, $14.00 a pound plus shipping
To order, contact Marlin or Gillie at Chromtec (Chromtec@bellsouth.net; (575) 521-4281) The afternoon is the best time to call as harvesting is done in the mornings. Full disclosure: I am a partner in this superhot field.
The Hottest Peppers in the Universe Poster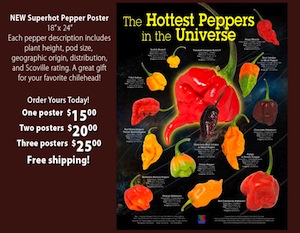 All the superhots in the poster were grown in New Mexico by Marlin Bensinger and I.  Get your poster here….
Hottest regards,
Dave DeWitt,
"The Pope of Peppers"
The following two tabs change content below.
Publisher | Christened the "Pope of Peppers" by The New York Times, Dave DeWitt is a food historian and one of the foremost authorities in the world on chile peppers, spices, and spicy foods.
Latest posts by Dave DeWitt (see all)