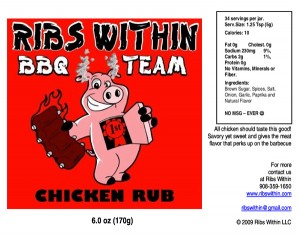 I first met Doug Keiles two years ago when I helper monkey'ed for his team, Ribs Within, at the Meatopia Bare Bones Barbecue Competition in Oakland's Eat Real Fest. He'd just appeared on Chopped and was about as happy as it gets.
Almost.
In the time since then, Doug took Reserve Grand Champion in the World Food Championships' bacon contest, launched his own line of rubs, and now he even sells Ribs Within Bacon. Congratulations, Doug, you're on the bonus plan when it comes to hard work paying off.
While I was busy enjoying leftovers from his bacon entry at the WFC in Vegas, we talked about some of those products. By the time I'd moved on from the taste of bacon to wondering how I was going to shed the weight later on, Doug hooked me up with a samples box of his seasonings. You'll meet the rest of that family later but for now, I'll introduce you to the Ribs Within Chicken Rub.
I put it through its paces using a whole chicken inside my Bradley 2-rack smoker. I coated the bird all over, inside and out, and under the skin. Since I really wanted to test the rub by its lonesome this time, I served sauce on the side. When you taste it the Ribs Within Chicken rub starts off on the salty side of the spectrum then finishes sweet. You taste the rest of its seasonings up until the sweet overtakes them at the very end. Overall, this product works very well. It would be wonderful mixed in with red beans, rice, and chopped chicken breast as a barbecue-flavored casserole too. I'll run the recipe for that when I bust it out later this week.
The following two tabs change content below.
Managing Editor | Mark is a freelance journalist based out of Los Angeles. He's our Do-It-Yourself specialist, and happily agrees to try pretty much every twisted project we come up with.
Latest posts by Mark Masker (see all)