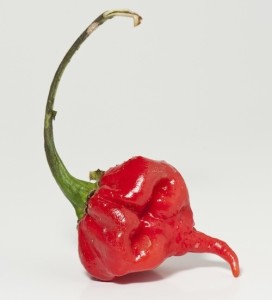 Hello Food Brokers and Manufacturers. Here at Chromtec and Sunbelt Microfarms, we have diversified and expanded our superhot chile fields from one to six in New Mexico and also added one in Florida. We are anticipating a bumper crop of New Mexico Scorpions, Barrackapores, and Morugas for shipping fresh, frozen, or dried.
We expect the demand for our crop to be so large that we are selling them on a first-come, first-served basis and are taking advance orders to secure your portion of the crop.
Interested? Contact Marlin or Gillie at Chromtec@bellsouth.net or call 575-521-4281
We are harvesting as you are reading this, so don't delay.
Eat the heat,
Marlin Bensinger, Chromtec
Dave DeWitt, Sunbelt Microfarms
The following two tabs change content below.
Publisher | Christened the "Pope of Peppers" by The New York Times, Dave DeWitt is a food historian and one of the foremost authorities in the world on chile peppers, spices, and spicy foods.
Latest posts by Dave DeWitt (see all)