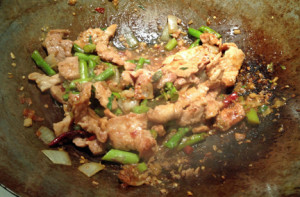 Almost as close as you can get to authentic Chinese food in North America! This recipe combines marinated pork shoulder, ginger, garlic, hot chiles, fermented bean sauce, asparagus and lemon grass for a somewhat spicy but extremely flavorful entrée.
Stir-Fried Pork, Asparagus, Lemon Grass, Onions and Chile-Garlic Sauce
Author:
Ingredients
1 pound pork shoulder or tenderloin, thinly sliced
3 tablespoons sake, divided
2 tablespoons cornstarch
Three tablespoons fish sauce (Tra Chang is a good brand), divided
Peanut oil
2 tablespoons minced fresh ginger
2 teaspoons granulated sugar
2 dried Thai chiles
1 tablespoon minced garlic
2 tablespoons minced lemongrass
3 scallions, finely chopped
1 medium onion, peeled and cut into small wedges
1/2 pound asparagus, trimmed and bias-sliced into two-inch pieces
2 tablespoons fermented chile-bean sauce
Two to four fresh Thai chiles, thinly sliced (depending on desired heat level)
1 tablespoon Chili-Garlic Sauce (Túóng Ót Tói)
3 tablespoons Thai basil, sliced into chiffonade (regular basil, if necessary)
Instructions
Combine one tablespoon sake, one tablespoon fish sauce and the cornstarch in a small bowl. Mix until smooth.
Place the pork in a bowl and add the cornstarch slurry. Stir well to coat.
Let the pork marinate at room temperature for 30 minutes.
Heat a wok or large skillet over medium-high heat. Swirl some peanut oil in the pan. Add the ginger, sugar, dried chiles, garlic, lemongrass and chopped scallions. Stir-fry for one minute.
Add the pork and onion wedges; cook, stirring, until the pork is slightly charred, about four minutes.
Add the asparagus and the remaining fish sauce and sake; stir-fry for three minutes.
Add the chile-bean sauce and sliced chiles. Chow briefly.
Add the chili-garlic sauce and toss to combine.
Add the basil and serve over steamed rice.
The following two tabs change content below.
Grilling & BBQ Editor | Mike holds a "Doctorate of Barbeque Philosophy" (Ph.B.) degree from the Kansas City Barbeque Society. His book Mastering Barbecue has been called the "go-to" book for BBQ knowledge.
Latest posts by Mike Stines (see all)