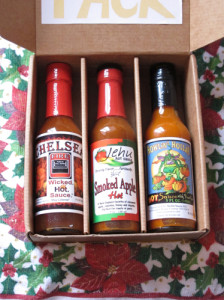 Researchers at the University of Wyoming uncovered evidence suggesting that chile peppers may do exactly that. Their studies indicate that capsaicin, the hot part in hot peppers, may amp up metabolism as well as turning white fat to brown fat.
As usual, researchers tormented some mice with capsaicin to reach their conclusions. The findings are being presented this week at the annual meeting of the Biophysical Society in Baltimore.
Brown fat turns white fat into heat energy. That's a good thing. Most adults don't have much (mostly in the neck and upper back). When brown fat goes into action, it can burn up to 300 calories in 24 hours. Moreover, studies also indicate brown fat may increase insulin sensitivity and aid in controlling blood sugar. Thus, your risks for obesity and diabetes drop because of it.
Trials with mice showed that it only takes .01% of capsaicin in a high-fat diet to stop weight gain. Theoretically, capsaicin catalyzes  the 'browning' of white fat and stimulates energy burning.
The following two tabs change content below.
Managing Editor | Mark is a freelance journalist based out of Los Angeles. He's our Do-It-Yourself specialist, and happily agrees to try pretty much every twisted project we come up with.
Latest posts by Mark Masker (see all)