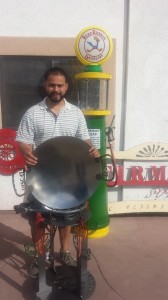 One highlight of every Fiery Foods Show is the DISC-IT giveaway. That's when DISC-IT founder and front man Nevin Montano draws the name of one lucky entrant to take home a brand new DISC-IT grill. This year's winner was Evan Nevarez of Roswell, NM. He couldn't make it back to the show so his brother picked it up for him.
This wasn't DISC-IT's only big news from the 2015 National Fiery Foods and Barbecue Show, though.
Nevin finally launched the SMOKE-IT.
Or at the very least created a prototype to show off at the event. SMOKE-IT is the smoker attachment for barbecuing on a DISC-IT. He's been meaning to create the add-on for years. "Keeping riding me to do it. That's the best way to make it happen," he told me at last year's show. Launching SMOKE-IT became a running gag between he and I throughout 2014. The last laugh was all Nevin's when I showed up on Friday and there it was: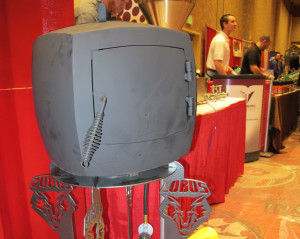 It may look boxy now, but once Nevin has the design finalized, I'm sure it'll fit right in with the rest of DISC-IT's accessories. You can find out more about the SMOKE-IT and DISC-IT's other products here.
The following two tabs change content below.
Publisher | Christened the "Pope of Peppers" by The New York Times, Dave DeWitt is a food historian and one of the foremost authorities in the world on chile peppers, spices, and spicy foods.
Latest posts by Dave DeWitt (see all)