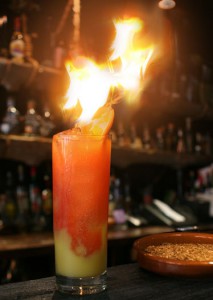 This drink looks too good to be legal…but it is, proving that epic July 4th fireworks can be served up in a glass as well as in the sky. Wow your Fourth of July barbecue guests with the Riazul Firecracker. This spicy cocktail, infused with Riazul Premium Silver, was concocted by Jorge Guzman, master mixologist and owner of Ofrenda, the new cantina-themed hot spot in Manhattan's West Village.
If you're in New York City for the fireworks, order one up at Ofrenda, where Guzman will be mixing them personally!
Riazul Firecracker
(by Jorge Guzman, Owner/Mixologist at Ofrenda)
2 ounces Riazul Silver Tequila*
2 ounces Fresh squeeze orange juice
1/2 ounce homemade grenadine (see below, or subsitute with Rose's Grenadine)
Optional: 1 tablespoon 80-proof mescal
Combine Riazul Silver tequila in a Collins glass with ice, and top with fresh-squeezed orange juice. Pour grenadine down side of the glass while tilting it, so it sinks straight to the bottom and only rises up slightly. Top off with 80-proof mescal, pouring it across the back of a spoon that's touching the side of the inside of the glass. Let the mescal trickle slowly down the side of the glass until it forms a "float" over the drink. Garnish with an orange wheel.
*You can substitute your own favorite tequila if needed.
Homemade Grenadine (optional):
1-32oz bottle of POM pomegranate juice
2 cups of sugar
Bring pomegranate juice to a boil. Lower heat and simmer for 10 minutes until it reduces in half. Add sugar and allow to dissolve. Chill.
Photograph by Antinio Anobile
The following two tabs change content below.
Lois Manno
Lois is the Editorial Director of the Burn! Blog and the Fiery Foods & BBQ SuperSite.
Latest posts by Lois Manno (see all)