By Dave DeWitt and Nancy Gerlach
The first outdoor cook to use chile peppers during a barbecue was Jaguar Claw, a somewhat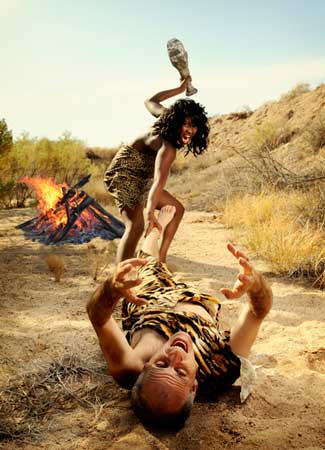 hen-pecked paleo-Native American who lived in the Amazon Basin about 20,000 years ago. He had dispatched his prey with his spear, had butchered the world's largest rodent with his new flint carving knife into chunks, and was contemplating boiling them for dinner.
"Boiled water pig is boring, you lazy jungle slob." said Macaw Feather, his lovely (but rather high-maintenance) wife. "Rub the meat with this powder and then grill it on sticks over the fire."
"What is this red powder?" asked Jaguar Claw. He had learned to be suspicious of his wife's culinary experimentation. He still remembered the visions from those strange mushrooms she had made him eat.
"It's made from bird berries," answered Macaw Feather. "The birds eat them. They are hot to the taste and will flavor the meat. If the birds will eat them, they won't hurt you."
Jaguar Claw grudgingly followed Macaw Feather's instructions and rubbed the meat with the red powder and let it sit for a while. Then he skewered it on thin sticks and held it above the fire until it was cooked medium rare.
Later, as the stuffed couple passed around the intensely flavored grilled meat to the rest of the tribe in the jungle clearing, Jaguar Claw asked: "What shall we call this food?"
"I'm calling them Chile-Rubbed Grilled Capybara Kabobs," Macaw Feather stated proudly.
Well, it could have happened that way.
To read the entire article with fantastic recipes for grilling your favorite meat with chiles, go to the Fiery Foods & BBQ SuperSite here.
The following two tabs change content below.
Publisher | Christened the "Pope of Peppers" by The New York Times, Dave DeWitt is a food historian and one of the foremost authorities in the world on chile peppers, spices, and spicy foods.
Latest posts by Dave DeWitt (see all)