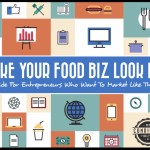 With us going into the Fiery Foods Show in just a couple of weeks and Dave making the final pushes to pull in attendees, I'm posting about marketing this week. It's an area that makes or breaks many a spicy product maker looking to take their product from part-time hobby to full-time business. Sara Lancaster and her company The Condiment Marketing Co. specialize in this area. A few weeks ago, she gave us a copy of her latest ebook, Make Your Food Biz Look BIG: A Guide for Entrepreneurs Who Want to Market Like the Pros, for review. Its information is must-have for any hot sauce or condiment maker trying to grow their product into a major business. Here's why.

In the beginning there was sauce idea, and it was good. At least, until whoever made said sauce (or spice mix, etc ) decided to sell it to the general public. Crafting a hot sauce for a few friends is one thing. They already know and, hopefully, like you. At the very least they'll take your product home and use it. Convincing consumers to shell out their hard-earned greenbacks is another animal. Not only that, you need to persuade enough of them to buy it and keep buying it if you want to make hot sauce for a living. It's not an easy gig. Craft hot sauces come and go all the time. A lot of the ones that fail are some of the best we've eaten, too. While they had a cool name, tremendous flavor, and a popping label, those items only add up to the driver's license for making a go at a successful business. What they lacked was a solid business battle plan for success. This book guides you through making that plan in simple steps, with links and other useful information along the way. It's a road map for building your brand and using content marketing to position your product in the market, create an effective marketing strategy, make a successful website with plenty of traffic, and manage content creation, social media, and PR. In other words, how to do a lot of what you SHOULD be doing on the business side while perfecting your product recipe.
The ebook starts off with the five stages that make up the life cycle of a succesful business, elaborating on each stage with info specific to condiments and spice rubs. It's a very specific resource and at $18.95, worth every penny in my opinion. You can buy it here.
The following two tabs change content below.
Managing Editor | Mark is a freelance journalist based out of Los Angeles. He's our Do-It-Yourself specialist, and happily agrees to try pretty much every twisted project we come up with.
Latest posts by Mark Masker (see all)