This avocado mayonnaise isn't just a jar of Hellman's with some avocado mixed in. I'm not above that sort of laziness but this version is for those who honestly want a healthier eggless option for their mayo. Or, you could use it in egg salad and watch someone's head explode while wrapping their brain around it. Fun fact: European sailors in the 1700s called this "midshipman's butter" because they liked to spread it on hardtack biscuits. You can also use it as a sandwich spread, a condiment for grilled meats, the mayo component on an Impossible Burger, or as a dip for veggies or chips.
Check out more Avocado Madness on Central.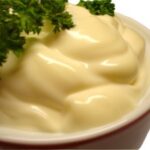 Heat Scale: As hot as you like it, baby
Combine all the ingredients in a small food processor and blend until ingredients form a paste.
The following two tabs change content below.
Publisher | Christened the "Pope of Peppers" by The New York Times, Dave DeWitt is a food historian and one of the foremost authorities in the world on chile peppers, spices, and spicy foods.
Latest posts by Dave DeWitt (see all)