I love Frankensteining two or more products together during a review. It tastes like… Victory.
Only if you've done it right. Luckily, mixing All Spice Cafe's Chipotle Garlic sauce with Karoun Kefir Labne Cheese worked extremely well. If it hadn't, there'd be a new hole in my backyard. The sort of hole Joe Pesci bitched about having to dig in Casino, only without a snitch in it. The sauce packs a medium-sized heat and smoky flavor with garlic and tartness. Traditionally made by draining whey from slightly salted yogurt, Labne is a thick and creamy yogurt cheese that's a healthier alternative to regular cream cheese. It's also rich enough to be used as a substitute for sour cream.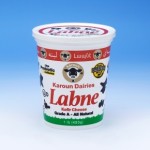 Mating these two crazy kids led to a very tasty but very tart dressing with as much as heat as you could want, outside of going ballistic on the fire factor. If you try this combo and find it's too sour for you, I'd recommend offsetting it with a sweetener. The steak rub I used for grilling the meat already had some sweet in it so for me, this wasn't an issue. Not only am I using this combination on a steak sandwich again soon, I'd also use it for dipping or as a salad dressing.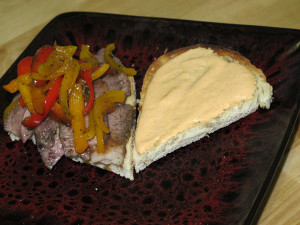 Steak and Pepper Sandwich with Chipotle Garlic Cheese Spread
2015-11-09 17:26:59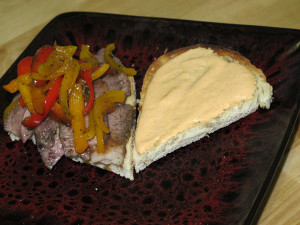 Heat Scale: Mild to Medium, depending on how hot you like it
For the spread/dressing
1/4 cup labne kefir cheese
1/2 to 1 teaspoon All Spice Cafe Chipotle Garlic Sauce
For the steak and peppers
1 to 1 1/2 lb London broil or 1"-thick chuck roast, coated in your favorite steak rub
2 bell peppers, thinly sliced
8 slices of rosemary olive bread
Instructions
Let the steak sit in the rub in the fridge for at least thirty minutes.
Preheat your grill for medium heat. While the grill is heating, mix the sauce and labne in a cup.
In an iron skillet, grill the meat to the desired doneness. This should take 7-8 minutes on a side.
Move the beef to a cutting board and let it rest for 5-10 minutes in order to reabsorb the juices. Cook the sliced peppers in the juices left in the skillet.
Cut the meat into thin slices. Toast the bread.
Place the meat on the bread, top it with the peppers, spread the dressing on the top slices of bread, and serve 'em up.
Burn Blog http://www.burn-blog.com/
The following two tabs change content below.
Managing Editor | Mark is a freelance journalist based out of Los Angeles. He's our Do-It-Yourself specialist, and happily agrees to try pretty much every twisted project we come up with.
Latest posts by Mark Masker (see all)