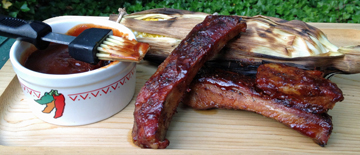 Every few months or at least once I year I like to develop a new and different barbecue sauce to supplement the sauces I've made before. For a Memorial Day cookout this year I made a somewhat spicy and very flavorful sauce that goes well with pork, chicken or beef.
Taste the sauce after it simmers and cools. If the sauce is too spicy for your palate, mellow the sauce by adding two tablespoons of butter. It's best to make this sauce a day or two ahead to allow the flavors to blend. It will keep refrigerated and covered for two weeks.
1 tablespoon vegetable/ canola oil
2 tablespoons minced yellow onion
2 tablespoons minced shallot
2 teaspoons minced garlic
1 tablespoon minced jalapeño
1/2 cup apple cider vinegar
1/2 cup Worcestershire sauce
1 tablespoon spicy brown mustard
2 tablespoons dark brown sugar
2 teaspoons smoked paprika
1 teaspoon coarse kosher salt
1/2 teaspoon cayenne pepper
1 cup good-quality ketchup
2 tablespoons honey, local if available
2 tablespoons unsalted butter (optional)
Heat the oil in a saucepan over medium heat. Add the onion and shallot. Sauté, stirring occasionally, until the onion softens, about five minutes. Add the garlic and jalapeño; cook for one minute until the garlic is fragrant. Reduce the heat to medium low.
Stir in the vinegar, Worcestershire, mustard, sugar, paprika, salt and cayenne. Bring to a simmer; add the ketchup and honey. Stir well to combine and cook over low heat until the sauce thickens, about 30 minutes.
Add the butter, if using.
Strain the sauce through a fine-mesh strainer or use an immersion blender to purée to a smooth consistency. (Or just serve rustic-style.)
Apply during the last 30 minutes of cooking if using as a glaze or serve as a dipping sauce.
Yield: About 2 1/2 cups
Heat Scale: Medium
The following two tabs change content below.
Publisher | Christened the "Pope of Peppers" by The New York Times, Dave DeWitt is a food historian and one of the foremost authorities in the world on chile peppers, spices, and spicy foods.
Latest posts by Dave DeWitt (see all)