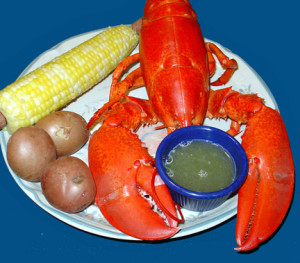 We have posted a new article by Mike Stines, "A Clambake in the Desert," and here's an excerpt from it to use on fish or any other type of seafood. The complete article is here.
Drawn Butter with Herbs and Cayenne
"Drawn" butter is simply butter that has had the milk solids removed leaving a clear elixir of pure butter. It may also be used for sautéed food as it has a higher smoke point than regular butter. (Also known as clarified butter or Ghee in India, the butter will keep, covered and refrigerated, for several weeks.) I like to enhance mine by adding garlic and parsley. If serving with seafood, a tablespoon or so of lemon juice could also be added. Clarified butter is also excellent for preparing Hollandaise sauce. And here is where you can spice up your clambake by adding cayenne pepper to taste.
1 pound (four sticks) unsalted butter, not margarine or butter spread
1/4 cup sliced garlic
1/4 cup minced parsley
Cayenne pepper to taste
Melt the butter in a medium saucepan over medium-low heat. Bring to a simmer and cook for about five minutes being careful not to brown the butter. Skim off the foam. Add the garlic and simmer for two minutes. Again, skim off any foam.
Remove the saucepan from the heat and strain the butterfat through a cheese cloth lined strainer into a heat proof container leaving the milk solids at the bottom of the saucepan. Add the parsley and stir to combine.
Store, refrigerated and covered, for up to a month or freeze for up to six months.
The following two tabs change content below.
Publisher | Christened the "Pope of Peppers" by The New York Times, Dave DeWitt is a food historian and one of the foremost authorities in the world on chile peppers, spices, and spicy foods.
Latest posts by Dave DeWitt (see all)