By Mike Stines, Ph.B.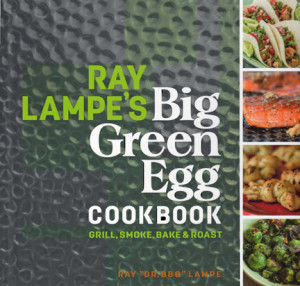 Florida resident Ray Lampe, self-proclaimed as "Dr. BBQ," has written the Big Green Egg Cookbook, his ninth cookbook, and it is fully focused on cooking with the Big Green Egg ceramic cooker although the recipes can be used with other ceramic cookers (such as a Grill Dome or Primo) or even regular grills. Lampe has been the compensated "spokeschef" for Big Green Egg for more than a dozen years.
Published by Andrews McMeel, the 160-page cookbook goes into Lampe's background from a Chicago truck driver to becoming an award-winning BBQ competitor. The book includes various tips, hints and techniques including the products he prefers to use when preparing barbecue.
Lampe covers grilling, smoking, roasting and a large 17-page section on baking highlighting the versatility of the Big Green Egg and giving readers a variety of recipes to try. Here's his take on barbecue beef sandwiches:
Barbecue Beef Sammiches
It starts with a simple chuck roast, which is smoked first for flavor and caramelization and then covered with some liquid in the pan to get it tender," Lampe explains. "When it's all done, it has cooked down to a beautiful soft and tasty product that's perfect for making sammiches, which are kind of like sloppy Joes."
1 (4-pound) boneless beef chuck roast
For the rub:
1 tablespoon kosher salt
1 tablespoon paprika
1 tablespoon chili powder (Lampe likes Pendery's – not Penzey's – San Antonio red blend)
1 tablespoon granulated onion
1 tablespoon granulated garlic
1 tablespoon granulated sugar
2 teaspoons black pepper
For the sauce:
1 cup beef broth
1/2 cup ketchup
1/4 cup firmly packed light brown sugar
1/4 cup cider vinegar
1 tablespoon soy sauce
1 teaspoon kosher salt
1 teaspoon chili powder
1 teaspoon granulated garlic
1/2 teaspoon cayenne pepper
1 large red onion, chopped
10 fluffy white hamburger buns
Prepare the Egg to cook indirect with a drip pan at 350 degrees F. with cherry wood added for smoke flavor. To make the rub, combine all of the ingredients in a small bowl and mix well. Cut the meat into four equal pieces. Season the pieces on all sides with the rub, using it all. Place the meat on the Egg cooking grid and cook for one hour.
Meanwhile, make the sauce. Combine all of the ingredients in a large bowl and mix well. Set aside.
After the beef has cooked for one hour, transfer it to a disposable aluminum foil pan. Pour the sauce over the top and cover the pan with foil, sealing it tightly. Place the pan in the Egg and cook for two hours, or until the beef is falling-apart tender. Peek under the foil after one hour to check the level of the liquid. There should be about one inch of liquid in the bottom of the pan. If there isn't, just add a little more beef broth or water.
When the meat is done, transfer it to a sheet pan, reserving the juices in the foil pan. In about 15 minutes, the beef should be cool enough to handle. Using your hands, shred the meat into strands, discarding any remaining big pieces of fat. Return the meat to the foil pan and mix it with the juices. It should now be the proper consistency to make sammiches. If the meat needs a little more liquid, add a small amount of beef broth or water. Using tongs, load up the buns with meat and serve.
Yield: 10 sandwiches
Heat scale: Mild
You won't find any ground-breaking recipes in the book but Lampe, who was inducted into the BBQ Hall of Fame in 2014, does put his spin on the classics and throws in some interesting twists on various recipes just to keep readers interested. For those experienced with ceramic cookers or a visitor to the various ceramic cooking blogs there is not much new to learn in Lampe's latest book.
But Lampe is an experienced and competent cook and the information he provides in the "Big Green Egg Cookbook" is valuable to novice cooks… and even seasoned cooks.
(Mike serves as our BBQ, Grilling and Gadgets editor. He has a yard full of cooking hardware – a couple of WSM smokers, two propane-fired grills, a Grill Dome Infinity XL ceramic cooker, a Yoder YS-640 pellet cooker and a bevy of miscellaneous cooking hardware. His garage has no room for a car… it's filled with more cooking gear, various accessories, cases of wood chips and bags of pellets. His third cookbook is Mastering Barbecue, published by Random House.)
The following two tabs change content below.
Publisher | Christened the "Pope of Peppers" by The New York Times, Dave DeWitt is a food historian and one of the foremost authorities in the world on chile peppers, spices, and spicy foods.
Latest posts by Dave DeWitt (see all)