By Mike Stines, Ph.B.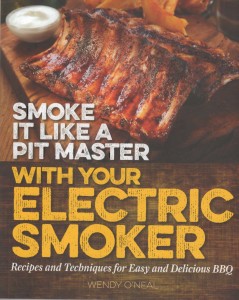 You love barbecued food… meat, fish and vegetables, even appetizers and desserts. But you don't want to deal with the hassle of using an offset smoker and having to tend it like a baby. There is an alternative to offset wood burning pits and pellet cookers… an electric smoker.
I've used a couple of different electric smokers and they are efficient and basically a "set and forget" cooker.
Phoenix resident and self-taught grilling cook Wendy O'Neal has written Smoke It Like a Pit Master with Your Electric Smoker. Published by Ulysses Press, the 144-page book covers all aspects of using an electric smoker and scores of recipes covering appetizers, poultry, pork, beef, seafood, side dishes and desserts. O'Neal created the food and homemaking blog Around My Family Table in 2009. Unfortunately the blog is loaded with pop-up advertisements.
The book is richly illustrated with 70 full-color photographs complimenting the recipes.
If you're interested in smoking with a minimal amount of effort Smoke It Like a Pit Master with Your Electric Smoker is a good source of information. If you're not familiar with electric smokers but want to learn more about them, O'Neal's book is worth the $16.95 investment. You can buy the book here.
Here are a couple of O'Neal's featured recipes:
Tangy Smoked Barbecue Sauce
"The use of whole, smoked tomatoes really gives this barbecue sauce a fresh tomato flavor, while the apple cider vinegar adds a tanginess that you'll love," O'Neal writes. "Since it's made with whole tomatoes, the texture is a little thicker than store-bought sauce, but you'll love it on ribs, brisket and chicken."
4 Roma tomatoes
3 cloves garlic
1/3 cup light brown sugar
1/4 cup prepared ketchup
3 tablespoons basic barbecue rub
2 tablespoons apple cider vinegar
1 tablespoon Worcestershire sauce
Salt and black pepper to taste
Prepare the smoker's water pan according to the manufacturer's instructions and preheat the smoker to 215 degrees F. While it heats, fill a medium bowl with water and add three or four handfuls of pecan wood to soak.
Place the tomatoes and garlic in a disposable foil pan and set in the smoker. Add a small handful of pecan chips to the chip loading area. Smoke for 1 1/2 hours, adding wood chips at least every 30 minutes.
Place the smoked tomatoes and garlic in a medium saucepan, add the remaining ingredients and bring to a simmer over medium heat on the stovetop. Continue to simmer for five to ten minutes over medium heat, stirring occasionally and breaking up the tomatoes. Remove from the heat. Using an immersion blender, countertop blender or food processor, purée until smooth.
Basic Barbecue Rub
"This rub is the basis for many of my family's best-loved recipes," says O'Neal. "It's perfect whether we're smoking or grilling, and not too spicy."
1/2 cup light brown sugar
1/4 cup plus one tablespoon coarse kosher salt
2 tablespoons garlic powder
1 tablespoon chili powder
1 teaspoon black pepper
1 teaspoon cayenne pepper
1 teaspoon paprika
1 teaspoon dried thyme
Combine all the rub ingredients in an airtight container, stirring to mix well. Store in a cool, dark place for up to six months.
(Mike serves as our BBQ, Grilling and Gadgets editor. He has a yard full of cooking hardware – a couple of WSM smokers, three propane-fired grills, a Big Easy infrared cooker, a Grill Dome Infinity XL ceramic cooker, a Yoder YS-640 pellet cooker and a horde of miscellaneous cooking hardware. His garage has no room for a car… it's filled with more cooking gear, various accessories, cases of wood chips and bags of pellets. His third cookbook Mastering Barbecue is published by Random House.)
The following two tabs change content below.
Publisher | Christened the "Pope of Peppers" by The New York Times, Dave DeWitt is a food historian and one of the foremost authorities in the world on chile peppers, spices, and spicy foods.
Latest posts by Dave DeWitt (see all)