By Mike Stines, Ph.B.
I'm enamored by raw oysters… freshly farmed from the briny New England waters and packed with flavor. But not everyone can get ocean-fresh oysters and have to rely on the frozen or canned varieties that are readily available in most supermarkets.
Here in New England, fresh unshucked oysters in the shell sell for about $1.25 each while eight ounces of canned oysters in water are about $5.50 and depending on the size of the oysters (the company says they vary), you'll get eight to 12 oysters per can.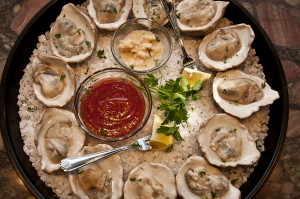 But there has always been a problem using canned or frozen oysters. Unless you save oyster shells, how do you serve oysters without having shells? A product developed by Loftin Oysters of Destrehan, Louisiana has a solution: ceramic oyster shells that look like the real deal.
The shells, made in the U.S., are a blend of heat resistant organic materials that are molded and finished by hand so each shell is unique. According to the company, most shells hold about 1/4 cup of liquid or 1/2 cup of topping or stuffing. Each set of 12 comes with a burlap bag for storage. They are dishwasher safe and can be used under a broiler, on a grill or in the oven.
They're perfect for grilled, smoked, broiled or roasted oysters such as Oyster Rockefeller, Oyster Bienville or any other dish using shucked oysters.
Oyster Rockefeller was created at Antoine's restaurant in New Orleans in the late 1890's and consists of shucked oysters topped with a mixture of spinach, parsley, watercress, chervil, Parmesan cheese, Pernod, bread crumbs and a variety of other green vegetables, topped with a creamy sauce and then broiled until the crumbs are golden brown. Oysters Bienville, which many food historians say was a rift on Oysters Rockefeller, also originated in New Orleans at Arnaud's restaurant in the 1940's that is made with shrimp, mushrooms, bell peppers, sherry, a butter-based roux, Parmesan cheese and bread crumbs.
Here's a recipe from Loftin that features oysters covered with a crawfish topping:
Crawfish Raoul
2 tablespoons butter
2 tablespoons flour
1/2 cup minced Vidalia onion
4 garlic cloves, minced
8 ounces crawfish tails
1 pint shucked oysters
Dash Worcestershire sauce
2 ounces vodka
1 teaspoon freshly ground black pepper
1/2 teaspoon salt
1/2 teaspoon red pepper flakes
1 cup whole milk
1/4 cup chopped green onions, for garnish
Melt the butter in a pan over medium heat, sauté the onion and garlic until translucent, and add the flour to make a roux.
Add the crawfish tails and cook for two minutes. Then add the dash of Worcestershire.
Stir in the vodka and allow sauce to come to a soft boil. Then carefully with a long-neck lighter set fire to the sauce to burn off the vodka.
Next, add the salt and pepper, red pepper flakes and whole milk. Let thicken, usually six to eight minutes. Place the oysters in the shells and spoon about a 1/4 cup topping over each. Broil for five to seven minutes or grill for about eight minutes until bubbly and slightly golden.
Yield: 12 oysters
Heat Scale: Mild
This is my adaptation of Oysters Bienville:
12 oysters
1/3 cup panko breadcrumbs
2 tablespoons freshly grated Parmesan cheese
3 tablespoons olive oil
1/4 cup minced sweet onion
1 clove garlic, minced (about one teaspoon)
1/4 cup finely chopped white mushrooms
1/4 cup finely chopped fresh shrimp
2 tablespoons white wine
1/2 teaspoon smoked kosher salt
1/4 teaspoon ground black pepper
Hot sauce to taste
1 tablespoon all-purpose flour
3 tablespoons chicken stock
3 tablespoons whole milk
1 large egg yolk, lightly beaten
Sliced scallions, for garnish
Lemon wedges, for serving
Heat oven to 400 degrees F.
Spread about 3/4 inch of rock salt in the bottom of a 13- by 9-inch baking dish. Arrange Loftin shells on top of rock salt.
In a medium bowl, combine bread crumbs and Parmesan. Set aside.
In a large saucepan, heat oil over medium-high heat. Add onion; cook until tender, about two minutes. Add garlic, mushrooms, shrimp, wine, salt and pepper, and hot sauce if desired. Cook until mushrooms are tender and shrimp are pink and firm, two to three minutes. Sprinkle with flour; cook for one minute, stirring constantly. Add broth and stir to combine forming a blond roux. Add milk; cook until creamy and slightly thickened. Remove from heat and add egg yolk, stirring constantly. Spoon about one tablespoon shrimp mixture onto each oyster shell and top with bread crumb mixture.
Bake for about 15 minutes or until the crumb mixture is lightly browned. Garnish with green onion and lemon, if desired. Serve immediately.
Yield: 12 Oysters
Heat Scale: Varies
(Mike serves as our BBQ, Grilling and Gadgets editor. Mike is one of 30 persons in the world awarded a Doctorate of Barbecue Philosophy (Ph.B.) from the Kansas City Barbeque Society. He has a yard full of cooking hardware – a couple of WSM smokers, three propane-fired grills, a Big Easy infrared cooker, a Grill Dome Infinity XL ceramic cooker, a Yoder YS-640 pellet cooker and a horde of miscellaneous cooking hardware. His third cookbook Mastering Barbecue is published by Random House.)
The following two tabs change content below.
Publisher | Christened the "Pope of Peppers" by The New York Times, Dave DeWitt is a food historian and one of the foremost authorities in the world on chile peppers, spices, and spicy foods.
Latest posts by Dave DeWitt (see all)