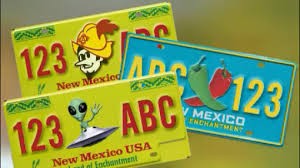 A New Mexico legislative panel is supporting a measure to create special license plates illustrated with the state's signature hot chile peppers. The House Transportation and Public Works Committee recently voted favorably on the legislation sponsored by Republican Rep. Cathrynn Brown of Carlsbad. According to the bill, it would cost vehicle owners $35 annually for the plate. Some of the plate revenue would go toward manufacturing costs while most would be used for educational programs at the state Farm and Ranch Heritage Museum in Las Cruces. I have been on the board of that museum for more than sixteen years, so of course I support the chile license plate bill. I'd also like to have one of those plates on my Camry Hybrid.
In the illustration, furnished by KRQE-TV in Albuquerque, the blue plate shows a possible design for such a plate. But will the legislature change the state's motto from "The Land of Enchantment" to "Red or Green?"
The following two tabs change content below.
Publisher | Christened the "Pope of Peppers" by The New York Times, Dave DeWitt is a food historian and one of the foremost authorities in the world on chile peppers, spices, and spicy foods.
Latest posts by Dave DeWitt (see all)