My good friend Harald Zoschke of Bardolino, Italy, has come up with his "7 Hacks for Chile Gardeners." The other 6 are here.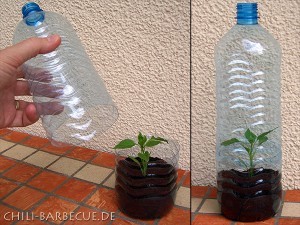 Chile Hack #1: Bottle Greenhouse
Here's an idea for an "el cheapo" mini-greenhouse for young pepper plants: Cut off the lower third of a large water bottle, poke a small hole in the bottom, insert soil and your small plant, and water it. Make a 5 cm vertical cut in the upper part so you can carefully mount it over the lower part. Don't forget to check on water every now and then, and to replant in time.
The following two tabs change content below.
Publisher | Christened the "Pope of Peppers" by The New York Times, Dave DeWitt is a food historian and one of the foremost authorities in the world on chile peppers, spices, and spicy foods.
Latest posts by Dave DeWitt (see all)