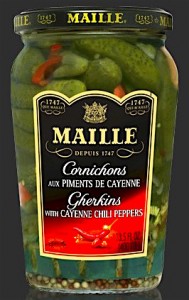 You may have noticed over the past two decades that nearly every consumer food category now has hot and spicy versions of its most popular foods. Now it's spicy pickled cucumbers as La Maison Maille continues its 267-year-old history of innovative foods with Cornichons aux Piments de Cayenne, or, in translation, Gherkins with Cayenne Chili Peppers. The company press release notes: "The hot Cornichons turn up the heat with the addition of cayenne peppers. The peppery notes and hot flavor added to these cornichons addresses the current growing consumer trend for spicy, savory eats and are perfect for younger generations who are looking to add modernity to their meals and participate in a more tasteful experience. Enjoy these tasty cornichons alongside grilled meat, added into sauces, or use them to add crunchy flavor and bold texture in your own secret dishes. Try them as a garnish for cocktails, mixed in with fresh vegetables or add them to a cheese or charcuterie board. Maille Hot Cornichons will be available in supermarkets and fine food stores nationwide as well as on maille.com for a suggested retail price of $8.50."
The following two tabs change content below.
Publisher | Christened the "Pope of Peppers" by The New York Times, Dave DeWitt is a food historian and one of the foremost authorities in the world on chile peppers, spices, and spicy foods.
Latest posts by Dave DeWitt (see all)