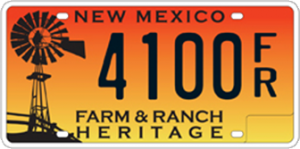 There has been a race to see which state first produces a chile pepper license plate, and New Mexico won. It just didn't happen the way we thought it would. The original bill would have allowed chile license plates to be issued for an extra fee that would have gone to support the New Mexico Farm and Ranch Heritage Museum. Since I've been on the board of that museum for 16 years, I wondered about the fact that the museum already has a successful license plate for the museum itself, and we earn money on it. Obviously Gov. Susana Martinez was reading my mind. She vetoed the bill and simultaneously the Motor Vehicle Division announced Friday, April 7 it will issue a license plate featuring chiles and a declaration that New Mexico is the "chile capital of the world." It will have yellow lettering on a black background (see left). It will be a standard plate and will require no additional fees on registration. Martinez says the new license plates will send a strong message about the significant role that chile plays in the state's culture.
The new plate: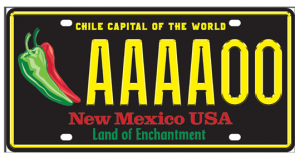 The following two tabs change content below.
Publisher | Christened the "Pope of Peppers" by The New York Times, Dave DeWitt is a food historian and one of the foremost authorities in the world on chile peppers, spices, and spicy foods.
Latest posts by Dave DeWitt (see all)