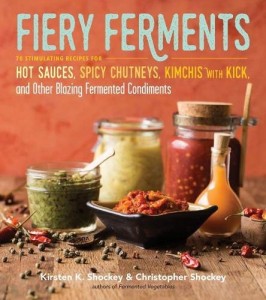 This book is a breakthrough for fiery foods and cooking with chile peppers–specifically, fermented chile peppers. Fermentation is nothing new for chiles–McIlhenny Company has been fermenting tabasco chiles to make their famous sauce since the 1860s. But in this book, we find out first, how to ferment and what chiles to use; second, how to ferment sauces, relishes, chutneys, pastes, kimchis and salads, and pickles; and third, recipes to make complete meals with fermented components. But be prepared–some ingredients take days to ferment, so you have to have patience. There is also a learning curve for most cooks–because, after all, how much do any of us ferment our own foods? The authors, Kirsten and Christopher Shockey observe: "We have devoted ourselves to researching ancient accounts of meals around the world, deconstructing hot sauces and rebuilding them with new custom vegetable ferments, and doing a lot of testing on the plate. We hope you enjoy these spicy characters as we give them their seats at the head of the table. They are fun, a bit crazy, and full of flavor." The book is scheduled to be published May 30, 2017, and you can order it here.
The following two tabs change content below.
Publisher | Christened the "Pope of Peppers" by The New York Times, Dave DeWitt is a food historian and one of the foremost authorities in the world on chile peppers, spices, and spicy foods.
Latest posts by Dave DeWitt (see all)