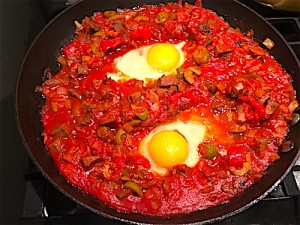 Similar to hash, picadillo originated in Spain and its name came from the Spanish picar, to chop or mince. The basic recipe is a combination of ground or minced beef or pork, bell peppers, onions, tomatoes, and in many places, chile peppers. We find that the best meat to use is leftover pork or beef from a roast. Cuban versions include the above, plus olives, raisins, potatoes, and capers and is usually sauteed in olive oil and white wine, depending on the region. In coastal parts of Mexico, seafood, ranging from shellfish to tuna, is substituted for the beef or pork, while in other parts of the country it is made with blended guajillo chiles, and sautéed onions and tomatillos. In the Philippines, picadillo is a stew-like dish prepared with ground beef and either potatoes or chayote (squash). It is often served over rice, and many versions feature a fried or poached egg on top, making it a great breakfast dish. My wife Mary Jane's version has even more ingredients, plus beer!
MJ's Big Brunch Picadillo
1/4 cup olive oil
2 onions, chopped
1 medium green bell pepper, chopped
2 cloves garlic, minced
2 to 3 pounds shredded or minced cooked beef or pork
16 ounces tomato sauce
1/3 cup tomato paste
1 to 2 cups green chile that's been roasted, peeled, and chopped
1 1/2 teaspoons cumin
1 1/2 cups chopped green olives
1/2 bottle beer (not dark)
3/4 to 1 cup Sultana raisins
In a large, heavy skillet, heat the olive oil and saute the onions and bell peppers until soft, then add the garlic and continue sauteeing, taking care not to burn the garlic. Stir in the remaining ingredients, cover, and simmer for 1/2 hour. Serve over hash browns or rice, with a fried or poached egg atop each serving.
Yield: 8 to 10 servings
Heat Scale: Medium
The following two tabs change content below.
Publisher | Christened the "Pope of Peppers" by The New York Times, Dave DeWitt is a food historian and one of the foremost authorities in the world on chile peppers, spices, and spicy foods.
Latest posts by Dave DeWitt (see all)