Here at the Burn Blog, we're already looking forward to autumn, so here's something a little different for your fall soups and stews.
Colby Cheese Cream Soup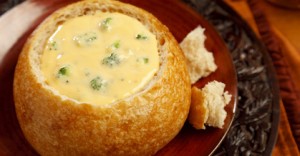 For a nice fall feast, serve this soup in a bread bowl before the main meal of pot roast, potatoes, and pumpkin bread. You can substitute a sharp cheddar for the Colby cheese if you wish.
1 small onion, minced
1 red bell pepper, finely chopped
3 tablespoons butter
3 tablespoons all-purpose flour
1 1/2 cups low sodium chicken Stock
1 1/2 cups white sauce (see Joy of Cooking)
3/4 cup grated Colby cheese
1/2 cup minced green onions, with a few reserved for garnish
Salt and freshly ground black pepper to taste
1/2 teaspoon cayenne pepper
Croutons of choice
4 large pieces of French bread, hollowed out to make bowls.
In a large saucepan, saute the onion and pepper in the butter for 5 to 7 minutes, stirring often. Blend in the flour, then add the stock and white sauce. Cook over medium heat until thick, stirring occasionally. Add the cheese and stir until melted. Add the green onions, and the salt and pepper to taste. Ladle the soup into the French bread bowl, garnish with reserved green onions and your croutons of choice. Sprinkle the cayenne over the top
Yield: 4 servings
Heat Scale: Medium
Caribbean Pepper Pot Soup
Add the callaloo, potatoes, and and Scotch bonnet pepper to the soup, bring back to a boil, reduce the heat to a simmer, cover, and cook for another 45 minutes.
Heat the vegetable oil in a skillet and saute the sliced okra until they are lightly browned, about 2 minutes, and then add them to the soup; simmer the soup for 5 more minutes, or until the okra is tender.
Stir the coconut milk and the shrimp into the soup and let it simmer 5 minutes, stirring occasionally. Serve in the acorn squash bowls.
Yield: 8 servings
Heat Scale: Medium to Hot
The following two tabs change content below.
Publisher | Christened the "Pope of Peppers" by The New York Times, Dave DeWitt is a food historian and one of the foremost authorities in the world on chile peppers, spices, and spicy foods.
Latest posts by Dave DeWitt (see all)