By José C. Marmolejo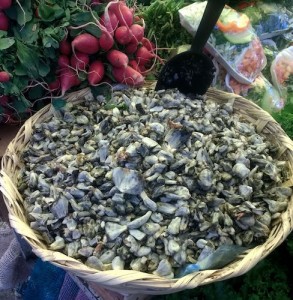 An Aztec legend holds that before Quetzalcóatl arrived in the Land of the Aztecs, they fed themselves with only wild herbs and wild animals. Corn was hidden behind tall mountains. Quetzalcóatl–the feathered snake god–then turned into an ant and carried a grain of corn to his people, and then agriculture began and a corn civilization was born.
As Nature always works its magic, a fungal spore found its way into an ear of corn and thrived. The corn was destroyed, but someone in the tribe decided not to throw it away, tasted it, and the fungus-infected ear of corn found its way into a kitchen and was cooked, seasoned, and named huitlacoche (pronounced "weet la co-chay," with the accent on the first syllable). This is not a legend: a corn plant disease became an Aztec delicacy, worth of Emperors!
Much sought after today, huitlacoche (also spelled "cuitlacoche") could only be harvested during the rainy season, but never "planted." The right conditions for its existence–humidity and temperature–were indispensable, not to mention the availability of a young ear of corn. But not too long ago, scientists isolated the fungus and reproduced it in vitro. The controlled production of the spores and the inoculum took off. Today Huitlacoche can be found in Mexico year round thanks to the climate of central Mexico, modern agricultural practices, and a growing demand.
Certain regions in the states of Morelos, Puebla, Hidalgo, and Guanajuato have the appropriate climate to produce huitlacoche year round. Research is now oriented to produce it in greenhouse conditions, but only the seasonal prices will determine the financial viability of this endeavor. Recently, after going three days in a row to my local vegetables purveyor and hearing the word "mañana" when I asked for the delicacy, he finally produced a beautiful basket of fresh huitlacoche. The price was $20 pesos per kilo, but since I had to go there three times to get it, kind of embarrassed, he dropped the price for me to $18 pesos without having to bargain. This is roughly U.S. fifty cents per pound. A real bargain, but even with those low prices, it's more profitable for small farmers to produce the fungus rather than the corn.
Le Charbon du maïs, as is known in France or Corn Smut as is known in the U.S., smells earthy, almost smoky, and somewhat like truffles and the finest fungi, but its flavor is more intense than any other. It's been said that fungi project the smell and flavor of the soil where they grow, but huitlacoche is "aerial," growing on live tender kernels of corn on the cob! It's a parasite! In a recent tasting of Mole Negro de Huitlacoche (recipe below), I asked a friend his opinion on the flavor of the mole. I only wanted to know if more huitlacoche should be added to the recipe because I thought so. Most of my friends said no, they considered it was well balanced. However, one of them stated that the mole tasted somewhat like corn. Well, a new and interesting descriptor was offered to me. Thanks Guillermo!
Research on Ustilago maydis (the scientific name of the fungus) has been done in several universities around Mexico. Some researchers are looking for medical applications while others have discovered that Huitlacoche is rich in antioxidants, amino acids, soluble carbohydrates, vitamins and minerals. What I have observed-and tested-is that once cooked, it is great with tortillas, salsas, pasta, rice, chiles and practically everything else. Well, buen provecho–year round–then!
Availability
Fresh huitlacoche is available in the U.S., but it's not fifty cents a pound but more like $12.50 a pound from Oregon Mushrooms, here. It's also available canned from MexGrocer.com, here.
Huitlacoche Recipes
For the following recipes here is the first step: rinse the fresh or canned huitlacoche a couple of times. A black residue after a couple of rinses is ok–it's actually what we are looking for. Some "corn silk" in the mix is ok too; it is only fiber. Sautée a chopped onion and a minced garlic clove in vegetable oil. Finely chopped serrano chiles to your taste may be added at this time. Add 2 cups of the cleaned huitlacoche and cook it for about 15 minutes until soft, then mash it like potatoes. Add epazote or cilantro and simmer for about 5 minutes. You've now have cooked huitlacoche, ready to make tacos, quesadillas, omelets, and so on. For the recipes that call for huitlacoche sauce, just place the cooked huitlacoche in a blender with a splash of water or light chicken stock, and you have a wonderful dark, silky, and flavorful sauce.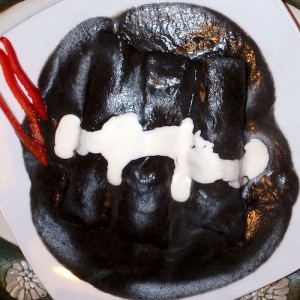 Crepas de Huitlacoche (Corn Fungus Crêpes)
Ingredients
1 pound fresh huitlacoche, cleaned as above
1/4 onion, chopped
2 cloves of garlic
1 or two fresh serrano chiles if desired
A sprig of epazote or cilantro
Vegetable oil
1 cup of sour Cream or shredded Monterey jack or Muenster cheese
12 Crêpes
Instructions
Stuff the crêpes with cheese and roll up, place on serving plate, cover with Huitlacoche Sauce, sign your dish with Sour Cream or sprinkle more cheese on top and place it in the oven at 425 degrees F for about 5 minutes.
Yield: 12 Crêpes
Heat Scale: Medium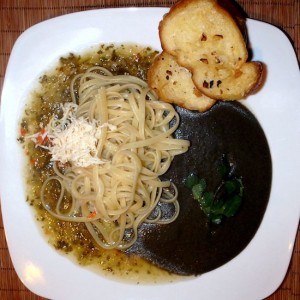 Pasta con Huitlacoche y Tomatillo Sauce
Ingredients
1 pound of your favorite spaghetti or linguine
Parmesan cheese to sprinkle
2 cups of Huitlacoche Sauce (see above)
2 cups of Tomatillo Sauce
8 ounces fresh tomatillos, chopped
1/2 onion, chopped
1 or 2 cloves of garlic, minced
1 or 2 fresh serrano or, habanero chiles, finely chopped
A sprig of Cilantro
Salt to taste
Instructions
While cooking the pasta, in a blender, blend the tomatillos with the onion, garlic, chiles, cilantro and salt. Heat the mix and you have the Tomatillo Sauce. Heat the Huitlacoche Sauce. Everything should be ready at the same time. Serve the Tomatillo Sauce in half of the serving plate. Serve the Huitlacoche Sauce on the other half of the serving plate. Place the cooked pasta in the middle of the plate over the two sauces. Sprinkle the Parmesan over the pasta. Presto!
Yield: 4 servings
Heat Scale: Medium
Mole Negro de Huitlacoche
This is an exotic yet simple mole recipe.
Ingredients
2 pounds pork loin cut in small cubes
4 Mulato chiles (or substitute anchos)
4 Pasilla chiles
1/2 onion, chopped
2 cloves of garlic
2 to 3 cups of Huitlacoche sauce (see above)
Frying vegetable oil or lard
Salt to taste
Instructions
Rinse the chiles. Cut them open and remove the stem and loose seeds. Seeds attached to veins will be saved since there is a lot of the flavor and pungency and add texture to the sauce. Boil the chiles for three minutes. Let them cool off, drain and blend with the onion, garlic, salt and some of the water where they were boiled. A thick dark red sauce should come out. Brown the pork thoroughly in the oil or lard. Add the chile sauce, bring it to a boil and simmer for half an hour. Add one cup of warm Huitlacoche Sauce, mix it and sample it. The rest of the Huitlacoche sauce should be added little by little to your taste. The balance is found when neither of the Chiles or the Huitlacoche flavor overpowers each other. Buen provecho!
Yield: 4 servings
Heat Scale: Medium
The following two tabs change content below.
Latest posts by José C. Marmolejo (see all)