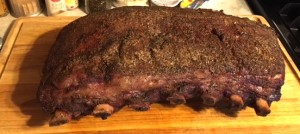 To hell with turkey for Christmas! The DeWitt family has always opted for prime ribs of beef on the holiday, and once again we did it, but with a slight twist. First, Emily and Max found a great deal from Smiths if they bought a huge roast. Is 18 pounds and 7 ribs huge? I guess it is. They called me from the supermarket and asked what I thought and I told them to buy it, and I would reimburse them. But when they got home, they discovered it would not fit in their roaster. Fortunately, like me, they had a Yoder pellet smoker and one of Dr. Barbecue's books with a recipe for smoked prime rib roast, which they followed to the letter. Nine of us devoured half the roast you see here, so we had plenty left for sandwiches. I made my recipe for creamy and spicy horseradish sauce and the medium-rare slices were near-perfect. Thanks, Ray Lampe!
Creamy Horseradish Sauce with Habanero
Horseradish sauce is a classic condiment that's served with roast meats—beef in particular—and cooked or raw vegetables. Since horseradish is very volatile and loses its flavor and aroma quickly, this simple sauce should be made close to serving time. For an added hit of heat, we add ground habanero chile.
2/3 cup sour cream
1/4 cup fresh or prepared horseradish, store-bought or homemade
2 green onions, finely chopped
1 teaspoon distilled white vinegar
1 teaspoon sugar
3/4 teaspoon chopped fresh dill weed
1/4 teaspoon habanero powder
Combine all the ingredients in a bowl and whisk until well mixed. Allow the mixture to sit for 15 to 20 minutes to blend the flavors.
Yield: 2/3 cup
Heat scale: Medium
The following two tabs change content below.
Publisher | Christened the "Pope of Peppers" by The New York Times, Dave DeWitt is a food historian and one of the foremost authorities in the world on chile peppers, spices, and spicy foods.
Latest posts by Dave DeWitt (see all)