This is a simple but classic method of preparing any firm, white-fleshed fish in the Philippines. To make the coconut vinegar, soak 2 tablespoons of grated coconut in 1/4 cup white vinegar for 30 minutes. You can use a fish basket on the grill so the fillets don't stick. Serve with an Asian hot sauce as described above. Note: This recipe requires advance preparation.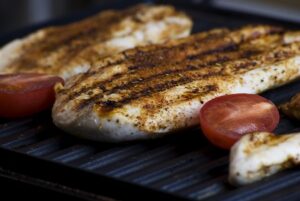 Ingredients
4 cloves garlic, minced
1/4 cup coconut vinegar
1 small chilli, such as serrano, seeds and stems removed, minced
Salt and freshly ground black pepper to taste
1 pound fish fillets
Vegetable oil
Instructions
In a bowl, combine the garlic, coconut vinegar, chilli, and salt and pepper and mix well. Reserve some of the marinade for basting. Place the fish fillets in a shallow bowl and pour the marinade over them. Marinate for 30 minutes.
Brush the grill with vegetable oil and grill the fillets over medium-hot flames for 4 to 5 minutes, turning once. Remove from the grill, top with the reserved marinade, and serve immediately.
The following two tabs change content below.
Publisher | Christened the "Pope of Peppers" by The New York Times, Dave DeWitt is a food historian and one of the foremost authorities in the world on chile peppers, spices, and spicy foods.
Latest posts by Dave DeWitt (see all)