Here is a recipe a hot version of Molho de Piri-Piri. Serve it with roasted potatoes and a spinach salad. Note: This recipe requires advance preparation.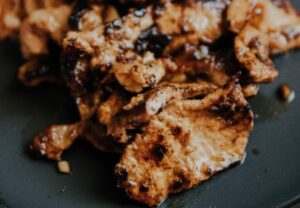 Ingredients
1/4 cup dried piri-piri chiles or substitute piquin or Thai1 cup olive oil
1 lemon slice, cut into quarters
1 bay leaf
1/2 teaspoon salt
1/2 cup brandy or whiskey
2 cloves garlic, minced
1 red bell pepper
4 cloves garlic
1 teaspoon. salt
4 tablespoons olive oil1
2 to 3 pound pork loin, boneless
Instructions
Combine the chiles, olive oil, lemon, bay leaf, salt, brandy or whiskey, and garlic in a medium saucepan and heat for 15 minutes. Let cool and pour into a glass container. Refrigerate overnight.
Cut the bell pepper into slices and place in a food processor or blender. Add the garlic, salt, olive oil and ½ cup of the shaken up piri-piri sauce. Puree until smooth.
Pour the marinade over the pork loin, cover with plastic wrap, and refrigerate overnight. Preheat oven to 350 degrees and cook the pork for 30 to 40 minutes per pound, uncovered. Slice and serve with pan juices drizzled over the top.
The following two tabs change content below.
Publisher | Christened the "Pope of Peppers" by The New York Times, Dave DeWitt is a food historian and one of the foremost authorities in the world on chile peppers, spices, and spicy foods.
Latest posts by Dave DeWitt (see all)