If ever there were a macho potato salad, this is it! Grilled cactus and chopped jicima add an unexpected twist to this warm, spicy red potato salad. To complete the Southwestern theme, these ingredients are tossed in a dressing of freshly squeezed lime juice and adobo sauce mixed with a heavy dose of chopped cilantro. Though the cactus adds a unique flavor to this salad, if it is not available at your local grocery store, it can be omitted.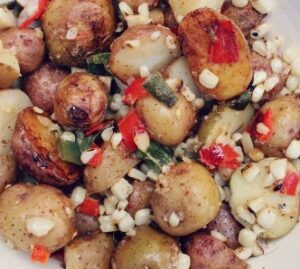 Ingredients
Equipment: Cast Iron Grid
Set the EGG for direct cooking with the Cast Iron Grid.
Preheat the EGG to 350 degrees F.
2 pounds red potatoes, halved
1/4 cup olive oil
1 tablespoon Red Chile Rub (see recipe)
Kosher salt and freshly ground black pepper
1 large cactus leaf
1 medium red onion, thickly sliced
1 medium jicama, peeled and diced
1 teaspoon sliced pickled red jalapeño, seeded and chopped
1/4 cup freshly squeezed lime juice (2 to 3 limes)
1/4 cup extra-virgin olive oil
1 tablespoon adobo sauce (from a can of chipotles in adobo sauce)
1/2 cupped chopped fresh cilantro
Instructions
Toss the potatoes with the olive oil in a medium bowl and add the rub. Season with salt and pepper and blend well. Place the potatoes on the Grid. Close the lid of the EGG and grill, turning occasionally, for 20 minutes, or until tender when pierced with a fork. Transfer the potatoes to a rimmed sheet pan.
Using a paring knife, remove the thorns from the cactus. Place the cactus leaf and the onion slices on the Grid. Close the lid of the EGG and grill for 2 minutes on each side. Transfer the cactus and onion to another rimmed sheet pan.
Cut the potatoes, cactus, and onion into bite-sized pieces and place in a large bowl. Add the jicama and jalapeño and mix well.
To make the dressing, mix the lime juice, olive oil, and adobo sauce in a small bowl. Pour the dressing over the potato mixture and add the cilantro and 1/2 teaspoon salt. Toss to combine. Serve immediately, while the salad is still slightly warm.
The following two tabs change content below.
Publisher | Christened the "Pope of Peppers" by The New York Times, Dave DeWitt is a food historian and one of the foremost authorities in the world on chile peppers, spices, and spicy foods.
Latest posts by Dave DeWitt (see all)