This is my version of a recipe that originally appeared in Mary Land's Louisiana Cookery (1954). I have spiced it up a bit. Okay, more than a bit, and added a few other spices. This sauce is served with grilled seafood and chicken, but if you wanted to sneak it onto some steamed shrimp or crawdads, I wouldn't turn you in to the food police. It will keep in the refrigerator for a week and freezes nicely.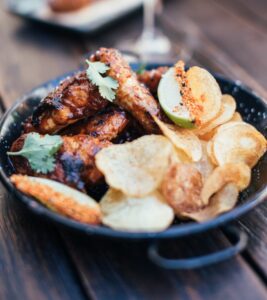 Ingredients
1/4 cup diced onion
1 tablespoon vegetable oil
1 clove garlic, minced
1 15 1/2-ounce can diced tomatoes, drained
1/3 cup honey
2 tablespoons distilled vinegar
3 bay leaves
2 tablespoons Louisiana-style hot sauce, or more, to taste
2 teaspoons dry mustard
1/2 teaspoon dried thyme
1 1/2 teaspoons freshly ground black pepper
Salt to taste
Instructions
Saute the onion in the oil in a skillet until soft, add the garlic and saute for two minutes more.
Transfer the onion and garlic mixture to a saucepan, add the remaining ingredients, and bring to a boil. Reduce the heat to low and simmer, uncovered, for 1 hour.
Remove the bay leaves, place the mixture in a blender or food processor, and process until just blended.
The following two tabs change content below.
Publisher | Christened the "Pope of Peppers" by The New York Times, Dave DeWitt is a food historian and one of the foremost authorities in the world on chile peppers, spices, and spicy foods.
Latest posts by Dave DeWitt (see all)