The salt block cooking concept is simple: you preheat a block of Himalayan salt to a very high temperature on your grill or stovetop and cook whatever you like: meat, fish, poultry or vegetables. During cooking, the food picks up salt flavor from the block so don't salt the food before cooking. The blocks may also be frozen or refrigerated and used for cold-food presentation such as caviar, sashimi, ceviche, smoked salmon or fresh fruit.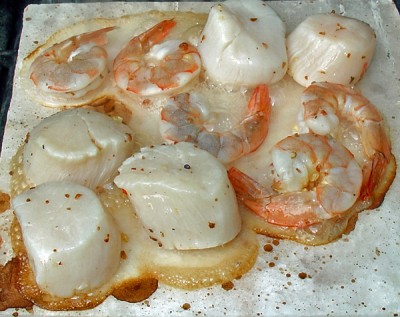 Salt Block Sichuan Citrus Shrimp and Scallops Ingredients
Eight dry-packed sea scallops, "catch" removed and rinsed
Eight large (U-21) shrimp, peeled and deveined
3 tablespoons fresh lime juice, divided
2 tablespoons fresh lemon juice
1 tablespoon crushed Sichuan peppercorns (or more to taste)
2 tablespoons olive oil
2 tablespoons finely shredded lime and lemon peel for garnish
Instructions
Combine 1 1/2 tablespoons of the lime juice, the lemon juice, peppercorns and olive oil in a small container. Add the shrimp and scallops and marinate, refrigerated, for one hour. Drain the seafood and discard the marinade.
Prepare the salt block for high-heat direct cooking (500 to 600 degrees F.) and cook the shrimp and scallops for two minutes. Turn and cook another two to three minutes or until done. Using tongs remove the shrimp and scallops from the block and divide the shrimp and scallops onto two warmed serving plates.
Garnish the seafood with the lime and lemon peel and drizzle with the remaining lime juice. Sprinkle with additional crushed peppercorns if desired.
The following two tabs change content below.
Grilling & BBQ Editor | Mike holds a "Doctorate of Barbeque Philosophy" (Ph.B.) degree from the Kansas City Barbeque Society. His book Mastering Barbecue has been called the "go-to" book for BBQ knowledge.
Latest posts by Mike Stines (see all)