Square dumpling wrappers are not just for making dumplings. They can also be cut into short, 1/4- to 1/2-inch-wide strips and cooked with delicious results. This spicy crab stir fry combination comes from an Indonesian friend living in New England. Indonesians love hot, spicy foods, and this dish is no exception. Feel free to add the fresh chilies to your taste. I do not use oil for this stir-fry. The bacon usually has enough fat for stir-frying the other ingredients.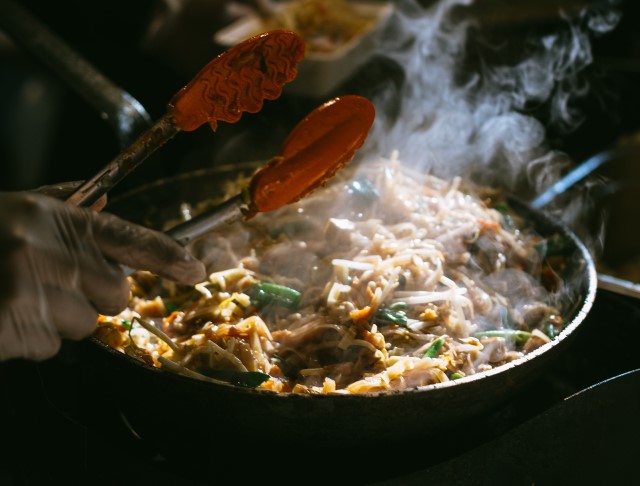 Spicy Crab Stir Fry Ingredients
1 pound fresh square dumpling wrappers, cut into 1/4- to 1/2-inch-wide strips or 1 pound fresh broad rice noodles
1 to 2 tablespoons vegetable oil
8 ounces sliced bacon
1 large garlic clove, minced
1 large shallot, minced
2 scallions, trimmed and minced
2 lemongrass stalks, trimmed to 8 to 10 inches and grated
3 to 4 red Thai chilies, stemmed, seeded, and minced
12 to 16 ounces lump crabmeat
1 cup fresh shelled green peas, or frozen peas, thawed
Fish sauce
Freshly gound black pepper
Instructions
Bring a medium pot of water to a boil over high heat. Cook the dumpling-wrapper noodles until tender yet firm, about 1 minute. Drain, toss with the oil, and divide among individual soup bowls or plates.

In a wok or large skillet over high heat, stir-fry the bacon until it renders its fat and is crispy, 3 to 5 minutes. Add the garlic, shallot, scallions, lemongrass, and chilies, and continue to stir-fry until golden, about 5 minutes.

Add the crabmeat and peas and toss well. Season with the fish sauce and pepper to taste and divide among the servings of noodles. Serve hot.
The following two tabs change content below.
Managing Editor | Mark is a freelance journalist based out of Los Angeles. He's our Do-It-Yourself specialist, and happily agrees to try pretty much every twisted project we come up with.
Latest posts by Mark Masker (see all)