It's up to you to decide how hot you want these prawns, but we'll give our recommendation for hot ones. Chile powder can be substituted for the fresh chiles if they are not available, but the consistency of the sauce will be slightly different. Serve this with fries or rice pilaf and a fruit salad.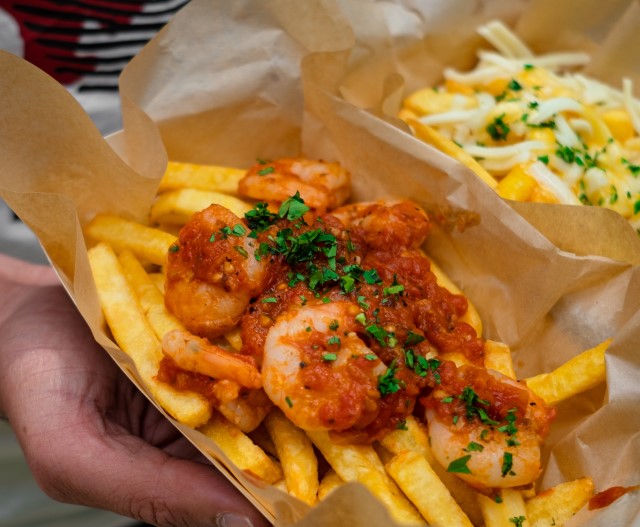 Tiger Prawns with Red Chile Ingredients
3/4 cup plus one tablespoon cornstarch
2 egg whites
2 teaspoons salt
1 tablespoon dry sherry (or more if needed)
1 pound prawns or large shrimp, peeled and deveined
1 ½ cups vegetable oil
1 teaspoon sesame oil
1 medium onion, peeled and sliced
1 tablespoon tomato paste
Pinch of white pepper
1 teaspoon sugar
2 green onions, finely chopped
1 teaspoon grated ginger
4 jalapeños (red preferred), seeds and stems removed, minced
1 tablespoon chicken stock
Instructions
In a bowl, combine the 3/4 cup cornstarch, egg whites, 1 teaspoon salt, and the dry sherry and mix well to make a batter. Add the prawns to the batter and coat well.
Heat the vegetable oil in a wok until hot. Add the coated prawns and stir fry for 2 minutes. Do not overcook. Remove the prawns and drain them on paper towels.
Remove all but about 1 tablespoon of oil from the wok. Add the sesame oil. Reheat the wok and stir-fry the onion slices for 1 minute. Add the tomato paste, white pepper, remaining salt, and sugar. Add the reserved prawns, green onions, ginger, and jalapeños and stir fry for 1 minute.
In a small bowl, combine the 1 tablespoon of cornstarch with the chicken stock and add to the wok to thicken the sauce. Serve immediately.
The following two tabs change content below.
Publisher | Christened the "Pope of Peppers" by The New York Times, Dave DeWitt is a food historian and one of the foremost authorities in the world on chile peppers, spices, and spicy foods.
Latest posts by Dave DeWitt (see all)