The key to preparing salmon this way is to make certain that your smoke is rather cool, about 100 degrees. If it is warmer, decrease the smoking time. This recipe takes a fair amount of time, but most of that is spent waiting rather than working. The selection of sauces served is up to the cook, so feel free to experiment. A horseradish sauce will work also. The salmon can also be served on bagels. Note: This recipe requires advance preparation.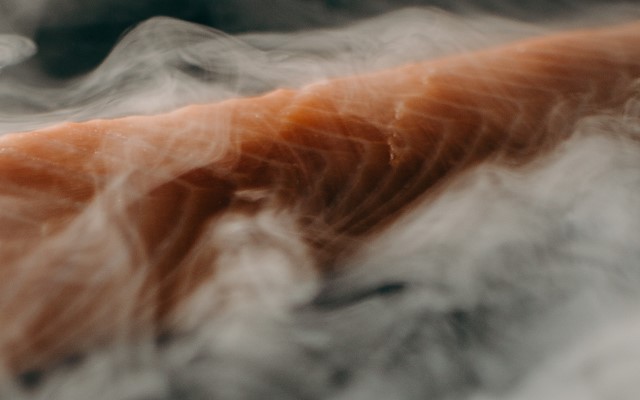 Cured and Pecan-Smoked King Salmon with Hot Sauce Ingredients
For the Cure:
2.5 cups kosher salt
3/4 cup brown sugar
1 tablespoon freshly ground black pepper
1 teaspoon ground oregano
1 teaspoon crushed dill weed
For the Salmon:
2 large salmon fillets, about 2 to 5 pounds each, or 5 small but thicker fillets
For the Sauce:
Commercial habanero hot sauce
Commercial sherry pepper hot sauce
Commercial spicy mustard
Commercial creamy horseradish sauce
Instructions
For the Cure:
Combine the ingredients for the cure in a bowl and mix well. Place a sheet of plastic wrap on an aluminum baking pan and spread about a 1/8-inch thick layer of the cure blend and place the fillets on the plastic wrap. Top the fillets with 1/8-inch of cure. Cover the fillets with plastic wrap and cure in the refrigerator for at least 2 hours; a 4-hour cure is preferable. Remove the fillets from the wrap and rinse the cure off each fillet. Allow the fillets to air dry for about 2 hours.
For the Salmon:
Prepare a fire in the smoker's firebox with pecan wood or other fruit or nut hardwood of choice, such as apple, apricot, peach, or walnut. When the fire stabilizes and the smoke is no longer hot, place the fillets skin-side down on racks or on the aluminum baking pan.
Smoke the fillets for 4 to 5 hours, depending on their thickness. Regularly check the fire and fillets to make sure that the fish is smoking, not rapidly cooking.
Serve the salmon over crackers of choice topped with any of the three sauces as an appetizer. Refrigerate any leftovers, which will keep for weeks.
Photo by cottonbro, via Pexels
The following two tabs change content below.
Publisher | Christened the "Pope of Peppers" by The New York Times, Dave DeWitt is a food historian and one of the foremost authorities in the world on chile peppers, spices, and spicy foods.
Latest posts by Dave DeWitt (see all)