Wasabi mayonnaise is delicious on grilled salmon, salmon cakes or deep-fried oysters (and most any other seafood). Try perking up anything that uses mayonnaise, such as deviled eggs, tuna salad sandwiches, or the po'boy sandwiches. This mayo recipe eliminates today's problems with raw eggs and possible salmonella because the egg base is heated before emulsifying it into mayonnaise. Serve this over grilled tuna or other fish.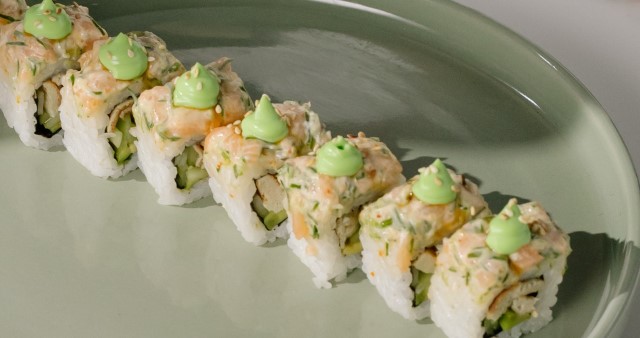 Wasabi Mayonnaise Ingredients
2 large egg yolks
2 tablespoons fresh lemon juice
2 tablespoons water
½ teaspoon sugar
1 teaspoon dry mustard
1 teaspoon salt
1 cup vegetable oil
1 tablespoons prepared wasabi paste
Instructions
Have a bowl of cold water handy. Place the egg yolks, lemon juice, water, and sugar in a small pan and heat over very low heat, while stirring constantly. If the mixture starts to thicken, immediately remove it from the heat, but continue stirring. Dip the bottom of the pan into the cold water to stop the mixture from cooking.
Scrape the mixture into a blender and let it cool for at least five minutes. Add the dry mustard and salt. Cover the blender and turn it on. With the blender running, slowly drizzle the oil in a very thin stream, allowing the blender to emulsify the sauce. Stop the blender. Add the wasabi. Pulse or blend the mayonnaise just long enough to thoroughly incorporate the wasabi. Refrigerated, this mayonnaise should keep at least a week.
The following two tabs change content below.
Publisher | Christened the "Pope of Peppers" by The New York Times, Dave DeWitt is a food historian and one of the foremost authorities in the world on chile peppers, spices, and spicy foods.
Latest posts by Dave DeWitt (see all)