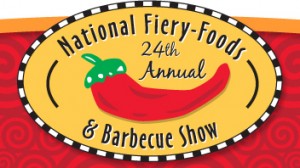 Come March 2 to 4, I'll be at the 24th annual Fiery Foods & Barbecue Show at the Sandia Resort and Casino, eating some seriously spicy food, and trying not to run squealing to the ice cream booth like a whipped puppy this time. According to Dave DeWitt, here's what I (and hopefully you) can expect:
—Return of the Cooking Demonstrations. We experimented last year with a couple of Pace Foods demos in the rotunda area (where the two lobbies meet), and they were well-attended, so we're having five guest chef demos in the same area this year. One will be on Friday, plus two on Saturday and two on Sunday. The chefs and times will be announced on FieryFoodsShow.com.
—Top Scovie Winner, Panama Red, Featured. It's a rare year when a hot sauce is the overall winner of our Scovie Awards competition, and it happened for only the third time in sixteen years in 2012. Panama Red, manufactured in Panama by PanCali Foods, was the top winner in the Tasting Division, and I have to say it deserved to win. Back in the day, "Panama Red" meant something quite different.
—Release of Dave's New Book. It's called Dave DeWitt's Chile Trivia, and editor Lois Manno and Dave compiled it from his 25-year archive of chile pepper research. Here's a sample: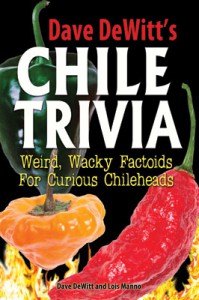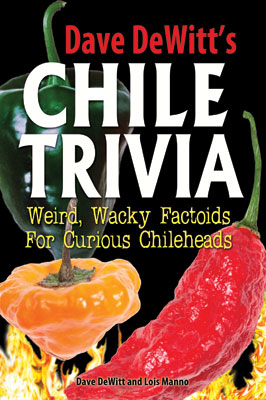 Would you believe?
That Braulio Ramirez ate 141 jalapeños in fifteen minutes?
That red chile sauce once splattered the interior of Air Force One?
That capsaicin can block a person's ability to feel burn pain?
That the 'Bhut Jolokia' or "ghost pepper" is not native to India but to Trinidad?
That GMO chile peppers have not yet been created?
That Hatch chiles are a myth?
That birds can't feel the burn of chiles because they don't have lips?
That chiles are listed in most books on aphrodisiacs?
They're all true!
—Exciting New Exhibitors. The Shed BBQ & Blues Joint, with six locations in Mississippi, Alabama, Florida have an astonishing number of products and one of them, a barbecue sauce sold in a paint can, won the top award in the Marketing and Advertising Division of the Scovie Awards. These joints even have a posse of fans that go from joint to joint called "Shedhoppers," who are sort of like Deadheads (but with better music).
—Superhot Chiles Grown in New Mexico. Marlin Bensinger, analytical chemist and superhot chile grower, will release his list of the top five hottest chiles grown in Las Cruces, New Mexico, and talk about them at the Chromtec booth, number 324. However, Dave is releasing the list early, because it's important for everyone to know that superhot chiles just might save the chile industry in New Mexico. Figures are in Scoville Heat Units.
Scorpion, Butch T, Red: 1,107,000 (This variety is the new Hottest Chile in the World)
Bhut Jolokia: 1,001,000
Barrackapore: 987,000
Douglah: 866,000
Naga Morich: 837,000
For more information, go here. You can see photos from last year's show in our Facebook album.
The following two tabs change content below.
Managing Editor | Mark is a freelance journalist based out of Los Angeles. He's our Do-It-Yourself specialist, and happily agrees to try pretty much every twisted project we come up with.
Latest posts by Mark Masker (see all)