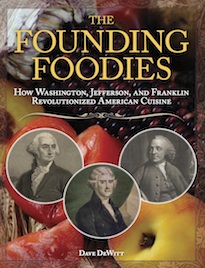 Dave DeWitt's book Founding Foodies: How Washington, Jefferson, and Franklin Revolutionized American Cuisine is now available.  If you're a fellow foodie who loves exploring food history, colonial times, and historic recipes, this is a must-have for your culinary library.
Packed with fascinating anecdotes about the "founding fathers" (and mothers) of our country, with historic images and recipes, Founding Foodies is guaranteed to teach you a thing or two about history—and food—that you never learned in school! Following are a few excerpts from the book. If they whet your appetite for more, order a copy from amazon.com!
The "Founding Fathers" as Foodies?
In their never-ending attempts to fully understand American history, historians both amateur and professional began using the term "founding fathers" to designate the men and women, mostly early politicians, who founded the United States.  At first, the term referred to three superstar fathers: George Washington, Thomas Jefferson, and John Adams.  That list has grown exponentially!
Embedded in the dozens of founding fathers websites are hundreds of founding fathers, including Betsy Ross, Ethan Allen, Haym Solomon, General Henry Knox, and other people most of us have never heard of.  Given the proliferation of founding fathers, it should not come as any surprise that some of them had a very profound interest in food and drink: Thomas Jefferson, George Washington, Benjamin Franklin, and John Adams, to name the most prominent of them.
By assigning the term "foodie" to four of the most famous and talented men in American history, am I trivializing them?  I don't think so. To the contrary; I am elevating them into a new dimension of humanity, one that transcends politics.  Today they would be superstars of sustainable farming and ranching, exotic imported foods, brewing, distilling, and wine appreciation.  In other words, foodies.
Fried Chickens

This recipe from Mary Randolph appeared in her cookbook, The Virginia Housewife (1824), which went through nineteen editions before the Civil War.  Mary's brother Tom was married to Jefferson's daughter, Martha, so it not surprising that this recipe is related to a dish served at Monticello, Fricassee of Chicken.  But it was this recipe that lived on to become a classic of Southern cooking. The "fried mush" evolved to become dumplings.
Cut them up as for the fricassee, dredge them well with flour, sprinkle them with salt, put them into a good quantity of boiling lard, and fry them a light brown; fry small pieces of mush and a quantity of parsley nicely picked, to be served in the dish with the chickens; take half a pint of rich milk, add to it a small bit of butter, with pepper, salt and chopped; stew it a little, and pour it over the chickens, and then garnish with the fried parsley.
Rum Flip
This was a popular way to prepare a mixed drink of all brands of rum, including Medford. In the early days, a red-hot fireplace poker was thrust into the mug with the rum drink to warm it up further. This recipe is from 1878.
Prepare grated ginger and nutmeg with a little fine dried lemon peel rubbed together in a mortar; to make a quart of flip, heat rather more than a pint and a half of ale ; beat up three or four eggs with four ounces of moist sugar; a tea-spoonful of grated nutmeg or ginger; and a gill of good old rum or brandy ; and when it is nearly boiling, put it into a pitcher and the rum and eggs, &c., into another. Mix and pour it from one pitcher to the other till it is as smooth as cream.
Paul Revere's Midnight Revelry?

In chapter two of the book, Dave continues the story of rum with the oral history tradition that on his ride to Lexington, Revere actually had a surgeon and a shoemaker with him, and they stopped in Medford at the house of rum distiller Issac Hall, who was also the captain of the local Minutemen.  There, at a party, Revere had so much rum that the shoemaker had to finish the ride for him.  Is this true?  If so, the best quote I found about it came from blogger Max Sparger, who compares it to the poem by Henry Wadsworth Longfellow, who he says got the whole story wrong in "The Midnight Ride of Paul Revere" (1860).  Sparber concludes: "After all, the poem isn't called 'The Midnight Ride of Paul Revere and Two Other Guys Who You Have Never Heard Of.'"
Ben Franklin's Drinker's Dictionary
In 1737, Franklin, writing as Poor Richard, published a rather extensive compendium of terms for being drunk in the
Pennsylvania Gazette
.  He loved his beer and wine, but often pontificated against them in his alter ego."Nothing more like a Fool than a drunken Man." –Poor Richard.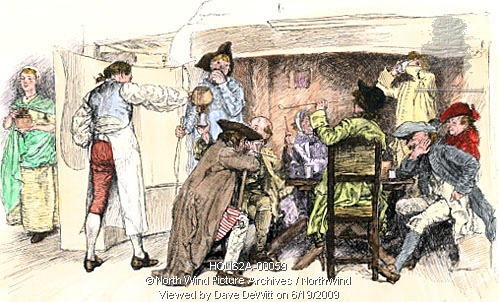 He is addled.
His head is full of Bees.
He's seen the Devil.
He's haunted with Evil.
He sees two Moons.
He's oiled.
He's lost his Rudder.
He's Staggerish.
He's Stew'd.
He's drunk as a Wheel-barrow
The following two tabs change content below.
Publisher | Christened the "Pope of Peppers" by The New York Times, Dave DeWitt is a food historian and one of the foremost authorities in the world on chile peppers, spices, and spicy foods.
Latest posts by Dave DeWitt (see all)