Suffering from post-Superbowl blues? Wondering how to fill the empty hours before you get to visit the Fiery Foods & BBQ Show? Here's the perfect distraction—enter a contest! No, we're not talking about the kind of contest where you eat a bunch of raw chile peppers or other food and then puke your guts out. These are actually interesting, creative contests.

Right now James Wreck at Eat More Heat has challenged the cyberworld to create a new logo for his website eatmoreheat.com. He's also running a second contest for the best spicy food-related blog article (including, but not limited to, restaurant/product reviews, chile gardening, eating challenges, etc.). Each contest has a $500 first prize, and both expire on FEBRUARY 29.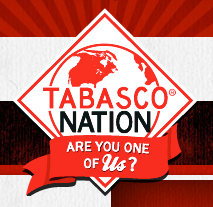 The other contest we ran across is from Tabasco®. They are inviting folks to take part in the official Tabasco® Nation Anthem for a chance to win a trip to Avery Island, Louisiana, home of Tabasco® sauce. This is part of the "Tabasco Nation" site on Facebook.
To participate, simply upload a video of you or your friends picking up a Tabasco bottle, using it on something delicious and then passing it on. All videos must be uploaded by Sunday, March 4, 2012 to enter the sweepstakes. You can find entry details, along with the current Anthem, through the link to Tabasco Nation on Facebook.
So shake off those winter doldrums, wake up your brain and get creative. Design a logo, submit a blog article, and make a video. You'll feel better, we promise. And you might even win!
The following two tabs change content below.
Managing Editor | Mark is a freelance journalist based out of Los Angeles. He's our Do-It-Yourself specialist, and happily agrees to try pretty much every twisted project we come up with.
Latest posts by Mark Masker (see all)